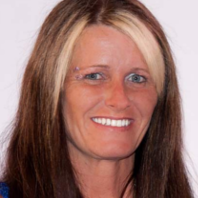 Subject:
Painting and Decorating
"It has been a struggle to juggle College and home life but I have loved every minute of it. The Peak Awards were a lovely way to finish my Derby College experience."
About Angela Ward
Studied: Painting and Decorating
Mother-of-two Angela Ward returned to Derby College to study painting and decorating with a clear goal in mind – to set up in business.
With skills and qualifications under her belt, she is now planning to launch her own venture decorating children's bedrooms with bespoke artwork and murals.
Angela had previously worked with elderly people as a carer before giving up her job to bring up her children. But she was determined to pursue her entrepreneurial dreams, so enrolled at College as a mature learner.
Her high quality work, dedication and professional approach earned her the Construction Built Environment prize, sponsored by Bowmer & Kirkland, at our 2014 Peak Awards.
Find out about studying Painting and Decorating at Derby College.