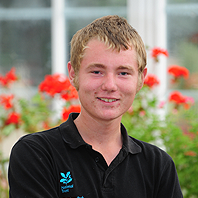 Subject:
Horticultural Studies
"Without the help of the college I wouldn't have got this nice job. I would have had no chance if the staff hadn't been there to help me get my CV together."
About Callum Reeves
Studied: Diploma in Horticultural Studies Levels 2 and 3
Now studying his Diploma in Horticultural Studies Level 3 and working as a fruit and vegetable gardener.
"I can't say I enjoyed school. The classroom wasn't for me – I'm dyslexic – and I left with no GCSEs. Because I didn't have the qualifications, I didn't make it onto a Horticulture Level 3 course nearer to home. Broomfield was further away, and course leader Mike Baldwin said something like 'there's something about you Callum. We'll start you off on Level 2 and see how you get on.' I managed to get a distinction and I'm halfway through Level 3 now.
"I'm enjoying the course and the College's Additional Learning Support staff have been really good. They are always there to help if I have any difficulties. On work placement, I was sent to Hardwick Hall for a year on a part-time basis doing herbaceous work – I loved it. And that led to me getting my current job."
Find out about studying Horticultural Studies at Derby College.