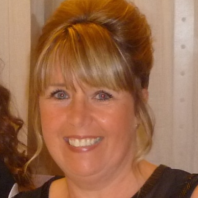 Subject:
Teacher Training
"Caroline Friel, our lecturer, played a major part in my decision, and that of other students on my course, to go on and get a degree."
About Caroline Keeton
Studying: Foundation Degree in Children's and Young People's Services
Going to university simply wasn't an option when teaching assistant Caroline Keeton left school in the 1980s. But, more than 30 years on, the 51-year-old mum of two is about to start a top up degree course after completing a foundation degree in Children's and Young People's Services with Derby College.
Caroline, who left school at 16 with just a handful of CSEs, discovered her interest in learning when she began work as a TA and took a course in childcare.
Encouraged by how well she took to studying, she enrolled on a level 4 diploma at Derby College and a Preparing to Teach in the Lifelong Learning Sector (PTLLS) course.
Caroline – whose two adult daughters both studied for their A levels at Derby College's Joseph Wright Centre – now plans to use her degree to enhance her current role at a Long Eaton primary School.
Rather than train to be a teacher after graduation she wants to become more involved in educational research projects within the existing TA job she loves.
Going to Derby College has given Caroline the self-belief she needed to go on to higher education.