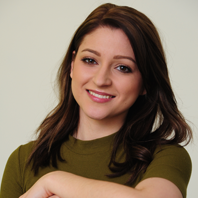 Subject:
Access to Teaching
"I'm loving it. They told to me to expect the most intense year of my life - and it really is intense but it's really good."
About Cinzia Corleto
Currently studying: Higher Education Diploma, Access to Teaching
An "intense" Derby College course is helping put former beauty salon worker Cinzia Corleto on the fast track to a dream job.
Cinzia Corleto, 26, is studying for an Access to Teaching Higher Education Diploma after following her instincts to switch career to become a primary school teacher.
Now Cinzia, from Bilborough, has been accepted by Nottingham University to take a degree in Educational Studies with Early Years. She will then go on to take her Postgraduate Certificate in Education (PGCE) to enable her to teach in primary schools.
Cinzia said one of the great things about the one year access course was that it speeds up the process of launching her new career rather than taking 'A' levels.
She said circumstances meant she moved around a lot as child and she wants to "give something back" by becoming a teacher.
Cinzia said her studies were stretching her and had boosted her confidence in standing up and addressing a group.
Find out about studying Access to Teaching at Derby College