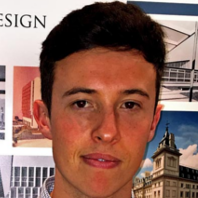 Subject:
Plumbing
"I just look forward to coming to work; I don't have that Monday morning feeling. I enjoy it here and I'd recommend anybody who gets the chance to become an apprentice to take it."
About Dean Wain
Derby College helps apprentice Dean change career direction
Former apprentice plumber Dean Wain has his sights set on becoming an architect after Derby College lecturers helped him change career direction. Dean, 22, had seen architects on site and decided he would explore going down that professional route by seeking expert advice.
Lecturers helped him to get on a Professional Construction and the Built Environment course, and later encouraged him to apply when city-based architect Morrison Design was looking for apprentices.
Dean landed an Architectural Technician Trainee job, an apprentice role, and has also transferred to Derby College's Professional Construction and the Built Environment Level 3 Extended Diploma. His long-term is aims to go on take Royal Institute of British Architects (RIBA) qualifications.