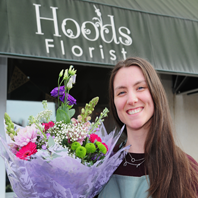 Subject:
Floristry
"The college gave me what I needed to do the job I'm doing now."
About Eleanor Holt
Stunning Broomfield inspired florist Eleanor
Four years ago, floristry shop owner Eleanor Holt felt trapped in a supermarket job which did not suit her.
Today she is the proud owner of her own floristry shop after studying for the skills she needed at Derby College.
In deciding on her course, Eleanor looked back fondly to her enjoyment of two weeks' work placement in a florists shop.
So she ditched her supermarket management course and took the college's Level 2 part-time City and Guilds in Floristry, passing with a distinction.
Eleanor, 27, said: "So I just went for it. I loved it.
"The actual site at Broomfield is great. The way you can go out into the grounds and pick foliage and use the flowers in your work is brilliant.
"The course taught you pretty much all you need to know to be a florist – there was a wedding unit, funeral unit, hand tied unit, things like that.
"We also did health and safety as it relates to the job which was really useful."
Eleanor worked part-time during her course at Hoods Florists shop in Chesterfield and was taken on.
And when the owner decided to concentrate on her business in Clay Cross, Eleanor jumped at the chance buy the shop "with a little help from the bank of mum and dad".
She said: "The college gave me what I needed to do the job I'm doing now."