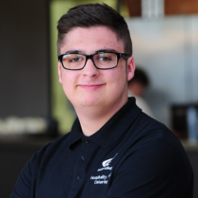 Subject:
Catering and Hospitality
"Derby College gave me the confidence to do what I'm doing now, and I owe my lecturers a lot."
About Jack Bowler
Bespoke Inns experience leads to ideal job for hospitality student Jack
Work experience offered through Derby College's links with Bespoke Inns has led to the ideal job for former hospitality student Jack Bowler.
Jack, who got a distinction in his foundation degree course in International Hospitality Management, has been working at the Boot Inn in Repton, a Bespoke Inns' traditional pub and restaurant, since August.
Although he already had catering qualifications from Derby College, Jack was keen to learn the front of house side of hotel and catering.
Encouraged by his lecturers, he enrolled on the foundation degree course and, through the Bespoke Inns Hospitality Management Academy, gained valuable work experience at The Dragon in Willington.
The Academy seeks to bridge the gap between education and the workplace for the College's hospitality students so that they can put into practice their customer service skills at top quality establishments.
In his new role at The Boot – a beautiful 17th Century coaching Inn – Jack gets to try his hand at everything including restaurant management, housekeeping and bar work.
He especially likes working behind the bar and telling customers about the range of beers brewed by The Boot's microbrewery next door.
He said: "My foundation degree was brilliant and the professional development offered through Bespoke Inns is unbelievable.
Derby College gave me the confidence to do what I'm doing now, and I owe my lecturers a lot. I'm happy to talk to students in hospitality so I can give something back. Bespoke Inns offers work experience to other Derby College students and it's good to see people getting the same great opportunity that I've had."
Find out about studying Catering and Hospitality at Derby College.
1117