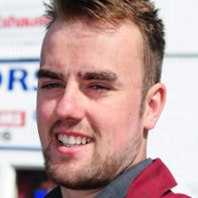 Subject:
Motor Vehicle Engineering
"I've always wanted to be around cars and I know I always will. I've carried out some quite demanding jobs since I started my apprenticeship."
About Jamie Rushton
Studied: Motor Vehicle Engineering Apprenticeship 
Now a Motor Mechanic at A&M Motors
Banger racing enthusiast Jamie Rushton has enjoyed tinkering with cars for as long as he can remember. So, when a Derby College motor vehicle apprenticeship came up at A&M Motors in Church Gresley, he seized the opportunity.
As the firm's first apprentice, his progress has been so impressive that he is set to be taken on permanently when his training programme finishes in 2015.
Jamie appreciates the support he receives from his College tutors and assessors. He also enjoys his day release experience at The Garage, our commercial facility.
The apprenticeship links in perfectly with Jamie's favourite past time of banger racing. He takes part in racing events all over the country.
Find out about studying Motor Vehicle Engineering at Derby College.