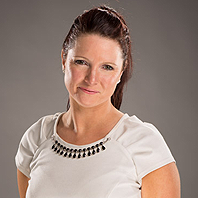 Subject:
Marketing
"Studying part-time for my CIM qualifications at Derby College has given me the knowledge and skills to progress in my marketing and communications career."
About Maria Warren
Studied: Chartered Institute of Marketing (CIM) Diploma
Now a Senior Marketing Coordinator at G F Tomlinson
"I'd already started on the CIM course before I joined my current employer, GF Tomlinson, but the company agreed to support me through completion of the course then on to diploma level. The tutor on my course, Roger Collier, was outstanding. He was helpful, patient and extremely knowledgeable as well as good fun. He always put everyone at ease and helped us much more then he needed to by staging mocks as we prepared for three long hours of final exams.
"I was studying part-time from the age of 28 to 32 which was hard work when I had a full-time job to do and a house to run. I had very little free time and on Saturday morning homework had to take precedence over housework. The support I received from the College was amazing though.
"I joined GF Tomlinson 10 years ago as a Marketing Assistant. I'm now Senior Marketing Co-ordinator, involved in every aspect of marketing so am often working to tight deadlines. Corporate hospitality activities such as organising 'meet the buyer' events and hosting open days are also a big part of the role.
"I'm grateful to both Derby College and GF Tomlinson for all the support I've received. It's enabled me to progress in a career I really enjoy."