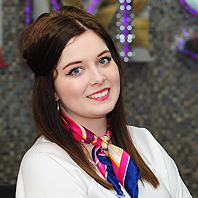 Subject:
Customer Service
"I got a great start in my job thanks to my apprenticeship and the course overall gave me all the background skills I needed."
About Natalie Shardlow
Studied: NVQ Customer Service Level 2
Now a Lettings Negotiator for IMS Lettings
"I'd always wanted to go into property as a career, and when I saw that IMS were advertising for apprentices, I decided to apply. As well as performing well at work, you have to write essay-type answers detailing your knowledge of various areas of the workplace for the course.
"It's quite demanding, with quite a lot of work at home, but the college was really good and supportive if I was having any problems, or stuck on anything. I'd really recommend my course to anybody wanting to get into this line of work because it gives you a real background into the world of customer service.
"After I'd finished my year's apprenticeship, I was taken on in a full-time job and I'm really enjoying it. The course helped to increase my confidence and I love working with members of the public."