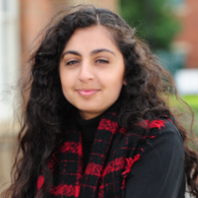 Subject:
Transitions
"The course has given me a taste of what the world of work is like. I'm enjoying my studies and I feel like I'm on the road to a job I enjoy."
About Pavandeep Tiwana
Work experience leads to an apprenticeship for Pavandeep
Student Pavandeep Tiwana is all set for taking up an apprenticeship following a successful work placement organised through her Derby College Transitions course.
Eighteen-year-old Pavandeep said the year-long course had boosted her confidence and put her on the road to her ideal job.
Transitions Level 1 is designed to support young people to find their future career pathway and to develop their studies.
Pavandeep, who has a younger brother, said she wants to work with children and aims to become a nursery teacher.
She said her tutor helped find her work placement at the Play Corner Day Nursery in Derby.  Her time there has gone so well that she has been offered an apprenticeship, starting in September.
The Sinfin teenager initially targeted a child care course but did not have the necessary qualifications.
Instead she took Transitions and said the combination of work experience and three days a week study was paying off. Now she is looking forward to completing the course and launching  her chosen career working with children
She said: "I'm really happy about it. The course has given me a taste of what the world of work is like. I'm enjoying my studies and I feel like I'm on the road to a job I enjoy."