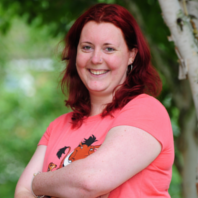 About Steph Lovely
Hands-on Broomfield course helps Steph target Bachelors
Animal management student Steph Lovely has returned to Derby College Broomfield Hall because of the unique combination of work-based learning and academic studies on the study programme.
Steph (25) is completing the first of two years on her Level Five course and is planning to stay on for a third year to work towards a Bachelors qualification.
Steph said she was initially concerned about funding but found she was eligible for student finance which enabled her to pursue her studies.
Previously she has taken two courses at Broomfield – a first diploma in horse care and a national diploma in horse management.
She worked with horses for a few years before deciding to switch direction while still working with animals.
Now she is aiming to go on to become a veterinary nurse or RSPCA foster carer.
Steph said: The course is really hands-on and that's what I wanted. It's going really well. I'm getting better grades than I expected, with merits and distinctions. It will be a stepping stone for the future."