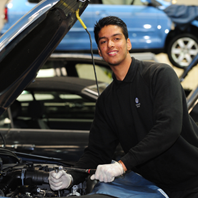 About Sukjevan Dhindsa
Motor Vehicle apprentice Jeeves on road to becoming Master Technician
Former Derby College motor vehicle student Sukjevan Dhindsa intends to go as far as he possibly can in his career as a motor technician.
Sukjevan – or Jeeves as he is better known to his friends – is aiming to become a Master Technician after being taken on as an apprentice with VW Parkway in Derby.
Jeeves who is 17 and from Sinfin, was offered the apprenticeship while on work placement as part of his full-time Motor Vehicle course with Derby College.
He joined VW Parkway in August and will shortly be embarking on VW's own apprenticeship training scheme at Milton Keynes.
Once qualified Jeeves would like to work towards every certificate on offer via VW until he becomes a Master Technician. It is the highest level attainable and a qualification which demonstrates diagnostics expertise in areas which include electrical systems, engine performance, heating and air conditioning and engine repair.
Jeeves is settling in well in his new role and is enjoying learning new things every day. He particularly likes working with engines and diagnostics and has found the experienced technicians at the dealership to be approachable and helpful.
Jeeves loved his time at Derby College and was impressed by both the theoretical and practical teaching he received there.
Find out about studying Motor Vehicle Engineering at Derby College.