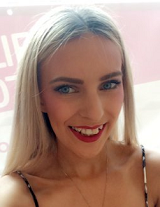 Amy Parry left Derby College with A Levels in Psychology, Sociology, Drama, Theatre Studies and Media Studies.
She recently spoke to our Alumni team about her experiences at college and how they gave her the tools she needed to get into university and forge a career path for herself.
"Derby College undoubtedly helped shape my career as they encouraged me to go to university and helped me gain qualifications that gave me enough UCAS points to go to my university of choice," she said.
"My time at Derby College taught me great organisational skills, commitment, determination and resourcefulness. My decision to pursue all four of my A Levels until the end rather than only completing three contributed greatly to this. It was also a decision that the college and my tutors supported me with. Having to balance a substantial workload in four varied subjects helped me to gain the above skills and much more."
Amy recently graduated from university with a First Class degree in Business; something that she says is her proudest career or educational achievement so far.
Now working as an Organisational Development Assistant for Derby City Council, she has been able to apply the skills she gained at college to a bright and promising career.
"My main responsibilities in my current role are to provide administrative support to my nine fellow colleagues and support all of my colleagues in the delivery of projects which form our Organisation Development Objectives," said Amy.
"Projects I have recently helped to deliver are the development of in house bespoke workshops and training courses for management, the introduction of new e-learning courses, the use of a corporate skills matrix and lastly the introduction of a new time management tool.
"The greatest challenge was assisting in the development and delivery of bespoke assessment centres. They were used to assess candidates applying for Heads of Service and Service Director posts," she said. "Creating the correct balance between assessing the correct behaviours, competencies and technical ability, and using the right methods at that level, was an amazing learning opportunity for me. It's something I am very proud of."
So what's next for Amy?
"My ultimate career goal is to create a career for my self in Learning and Development after the end of my fixed term contract," she said. "This is an area that I have become very passionate about since working for the Council.
"I've learnt to try to approach work with a 'bring it on' attitude and be able to flex my skills to meet any challenge I face."
Thanks Amy!