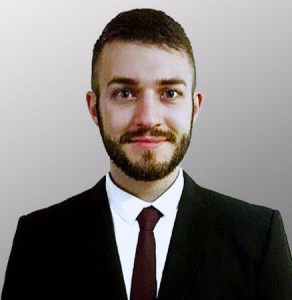 Jack Simpson studied a HNC (Higher National Certificate) in Manufacturing Engineering at Derby College. He is now a successful CAD Designer. Here is his story. 
Finding the right path 
"While everyone back in the school days always knew they wanted to be an architect, graphic designer or become a doctor; I was one of those under the 'no idea' umbrella," said Jack to our Alumni Team. 
"Fortunately I came across technical apprenticeship that interested me in Engineering. They gave me the work based experience as well as the academic background to help me be where I am now. Derby College was where my training provider sent us for a variety of courses; from BTEC up to Higher National Certificate level. College helped turn a potential interest in engineering to an actual interest, and then a career. 
Life after Derby College 
"After Derby College I went to study a Foundation Degree at Sheffield Hallam, followed by a sponsored Bachelors Degree in Mechanical Engineering while working full-time," said Jack. "Career-wise I've worked in a variety of roles from starting as an Assistant Design Engineer, working as a Project Engineer, to my current role as a CAD Designer. This is across a variety of industries from Oil & Gas, to Green Energy, to Laboratory and Pathology. In my current role I'm working primarily on providing the designs and manufacturing drawings to meet our customers requests as part of a CAD/Design team. 
"Studying at Derby College helps provide the foundation critical to a useful mind – it teaches you how to think, how to analyse, as well as understand the reasoning and logic to create. It also helps increase your soft skills, so things like giving presentations or just working effectively with people who range from very similar to very different to yourself." 
Proudest moments 
"My proudest moment would be completing my degree, specifically my dissertation," said Jack. "As it was more academic than industry, the work I put into that was astronomical. Studying a full-time course whilst working full-time has unique challenges; but once you get into it you actually start to enjoy it. 
"Especially after hitting the "Submit" button. That's the best bit. Writing my dissertation taught me how to analyse others' work, how to manage my own time, how to create my own theories, how to communicate my ideas, and how to provide solutions. The work paid off as I came out of it with a First!" 
Plans for the future 
"My goal is to work my way up to management," said Jack. "I see my self in a role of leadership in the coming years. Academically after studying A-Levels, BTEC, HNC, Foundation Degree and Bachelors, I'm currently taking a well-deserved break and instead trying to increase my soft skills and work-based capability. I'm also involved with the iMechE, a professional body for Engineers; so I will make a decision next year if I want to register professionally and where my next step academically will be." 
Finally, Jack had some advice to share for anyone hoping to follow in his footsteps… 
"Work hard today and it'll pay off when you're older. 'When you're older' will come around faster than you realise! 
"No matter what decision you make, use the experience and learn from those around you," he said. "Although college can be quite a relaxed atmosphere and you'll make new friends, it's important to always remember why you're there and that you're your own manager."