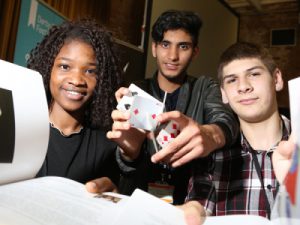 Students from Derby College who are recent arrivals to Derby from across the world have compiled a book of stories about the land of their birth, family memories and personal challenges. The book was officially launched at the final event of this summer's third Derby Book Festival.
The 28 young people, whose first language is not English, are on Derby College's Lexis intensive language programme.
They have produced the book 'Stories from Home, Journeys of Hope' which has been published by Derby Book Festival and is now on sale for £3.
They were joined at the launch event at the Roundhouse by students from Bemrose Community School who have also produced their own book – Stories for Life from Our World' and pupils with a Roma heritage from Pear Tree Primary School who performed a short play.
All the young people have been inspired to be part of the Derby Book Festival community project by working with celebrated author Richard O'Neill.
Mr O'Neill, who is a National Literacy Hero, has been working with the Year seven pupils at Bemrose helping them to write their stories. His work with the Pear Tree pupils helped them to devise and perform a story from his book Ossiri and the Bala Mengo. He also ran a workshop on writing skills at Derby College.
Chair of Derby Book Festival Liz Fothergill explained: "It has been wonderful to be back at Derby College for the final event of this year's Book Festival in the venue in which we held the inaugural event of the first Derby Book Festival three years ago.
"Our aim has been to bring city residents together to celebrate and enjoy books and reading and it is wonderful to be celebrating the work of young people at this closing event."
Three Derby College students read their stories at the launch. Silvania Teixeira (18) wrote about her experience of being attacked by a dog when she was nine near to the Cape Verdean village where she was brought up.
David Balog (16) recounted the story passed down through the generations of his family about his grandmother who escaped a German work camp in Slovakia in 1944.
And Ramandip Singh (17) shared his passion for magic and how he was inspired to learn the skills and share them with thousands of people online.
Derby College Chief Executive Mandie Stravino concluded: "We are extremely proud of our students who have worked incredibly hard to produce this book – sharing personal experiences in life which have had a profound impact on them.
"The Lexis students arrived in the UK at various intervals during the last few years. Many have little prior knowledge of English and a few had had no previous formal education.
"These stories are moving and inspirational and are also beautifully illustrated by our Art & Design students."