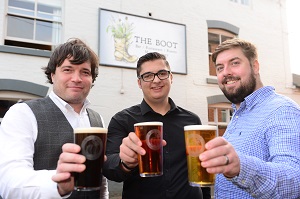 Working in an award-winning traditional village pub and restaurant is the dream start to a career in hospitality for former Derby College higher education student Jack Bowler.
Jack, who is employed at The Boot – a 17th century coaching inn in historic Repton – is the first student to have benefited from the college's new partnership with Bespoke Inns.
As a learner with the Bespoke Inns Hospitality Management Academy, he gained valuable front of house experience at The Dragon in Willington, another Bespoke Inns' pub.
Jack, who is 20 and from Mickleover, graduated from his foundation course in international hospitality management earlier this year, and has worked at The Boot since August.
He said: "I do a bit of everything, including looking after restaurant tables, showing residents to their rooms and working behind the bar.
"For many people bar work is just a job but I'm passionate about it. The Boot has its own micro-brewery next door and I love telling the customers about our beers. "I'm learning all I can about the front of house side and gaining a basic knowledge in everything."
Graham Townend, marketing manager with Bespoke Inns, said Jack was making excellent progress at the Boot, which is jointly owned by Chris Blincoe and Rick Graham.
He said: "Jack is one of our shining lights and taking him on as a student, and now as a full-time member of staff, has been a great start to our working relationship with Derby College.
"We have three more Derby College students on the programme at the moment and we are hoping they will be just as good."
As well as The Boot, which won the AA Pub of the Year in 2016, Bespoke Inns comprises The Dragon – a previous winner of the Derby Food and Drink Awards and Best Traditional Pub – and Harpur's of Melbourne, which recently received two rosettes for culinary excellence.
All three premises have restaurants, bars and accommodation but students get most of their work experience at The Dragon because it is the busiest and gives them more chance to try everything.
Jack added: "When I first came to Derby College as a catering student I was quite quiet and never imagined I'd one day be in a customer-facing role.
"My Derby College foundation degree was brilliant and the professional development offered through the Bespoke Inns Academy is unbelievable."
Bespoke Inns Hospitality Management Academy is the latest addition to Derby College's employer academy programme which aims to bridge the gap between education and the workplace.