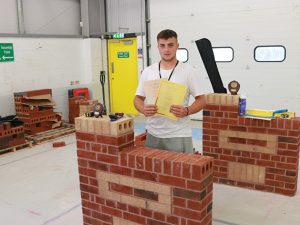 Derby College has hosted the national final of the Guild of Bricklayers' annual skills competition at its Derby Construction Academy.
Eighteen students and apprentices from throughout the UK attended the competition organised by the Guild of Bricklayers.
Derby College apprentice Will Austin (21) came third in the junior competition. Will, who is based at the College's Construction Academy in Pride Park, is an apprentice with KR Brickwork.
Among the guests on the day were former Derby College students who had previously won the competition including Jordan Richards who works for GF Tomlinson and Jamie Wasley who progressed from the Academy to now be a building inspector.
Derby College Team Manager Matthew Curtis said: "It was a huge honour to host the national final of this prestigious competition.
"Derby College has an excellent track record in this annual competition and it was brilliant to welcome back some of our former students who had won medals and trophies in this when they were with us.
"The standard was exceptionally high and we have had some very positive feedback about the organisation and facilities on the day from the Guild and the competitors."