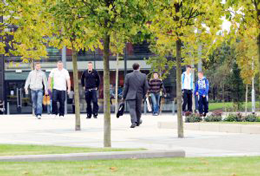 Derby College is further developing its plans to create an Institute of Technology for Engineering and Professional Construction following the announcement of a Government cash boost for the D2N2 Local Enterprise Partnership area.
The Institute is part of the £63million allocation for the Derbyshire and Nottinghamshire areas which is designed to help create jobs, build homes, raise productivity, support businesses and encourage economic growth.
A plan has been drawn up to complete a £3m refurbishment of part of the Roundhouse campus in Pride Park which is the College's flagship technical centre.
The Institute will be a hub for higher level skills development, including the creation of 60 higher apprenticeships a year in Engineering and Professional Construction and the development of further level three study programmes for 16 to 19-year-olds who then have the potential to progress onto the higher level programmes with Institute of Technology.
Higher apprenticeship and further education study programmes will range from rail-specific training and Mechatronics in the Engineering sector to civil engineering and construction management in the Professional Construction industry.
These skills have been identified as particularly crucial to enable local and regional companies to bid for key road and rail infrastructure projects planned over the next decades and the on-going expansion of the residential housing stock.
Derby College Chief Executive Mandie Stravino explained: "There are currently too few people equipped with the higher level technical skills that our economy needs.
"This skills gap is harming the economy – hindering productivity and hampering the life chances of young people.
"The D2N2 LEP has particularly identified the need to recruit a significant number of higher apprentices in the Engineering and Construction sectors to be able to undertake the local infrastructure activity scheduled to take place.
"Employers are asking us to use higher apprenticeship standards to develop these skills and the creation of this Institute of Technology will enable us to meet this demand.
"Our aim is to refit parts of our Roundhouse campus to create a state of the art facility which matches international standards.
"This development will link learning provision to the present and future employment and skills needs of employers by offering an expanded range of Construction and Engineering apprenticeship and employer focused programmes."