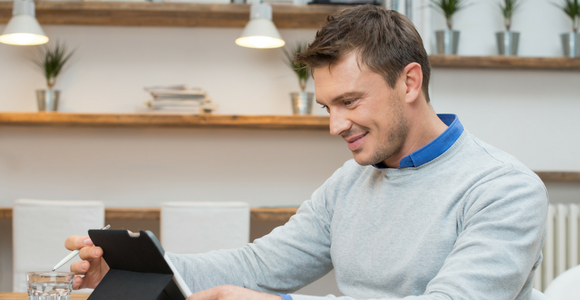 Skype and video interviews are increasingly being used by recruiters to narrow down the number of job applicants at an early stage. The rise in remote working has also meant that Skype interviews are necessary to hire talent across the globe.
If you want to impress 42% of today's employers, being able to come across well on camera is a vital skill. Follow these Skype interview tips and you'll be able to do just that.
Practice being on camera
If you're not comfortable being on camera, record yourself answering practice interview questions and watch yourself back. If you appear nervous or awkward, keep practicing until you look natural.
Check your body language. Make sure you're not fidgeting or gesticulating wildly, as this can make you seem nervous
Smile slightly when you are listening to the other person, and when you are talking. The camera makes a blank face look like a frown, and a small smile looks neutral and more open.
Look at the camera directly, not at the whole screen, as this mimics eye contact. Avoid looking down at your notes – if you need to, keep your notes on your screen, close to the camera so it looks like you're not looking away.
Make sure you speak and breathe slowly – it will help calm you down and give you time to consider your answers.
Dress as if you're attending an interview in person
You may be sat at home in your living room, but a Skype interview is a formal occasion and should be treated as such. Dress appropriately for the job you're applying for. If it's a role where you would be expected to wear a suit, you should be wearing one in your interview. If it's more of a smart-casual affair, dress slightly more smartly than you would for the office and make sure you're meticulously presented.
Don't be tempted to wear your pyjama bottoms under the desk either, just in case you need to stand up to adjust the camera…
Perfect the production value
Assume that everything about your Skype interview will be scrutinised. As well as appearing confident on camera and dressing the part, think about everything else that goes into making a video production, such as:
Setting – Don't sit in front of a pile of dirty washing or on the edge of your bed. Sit somewhere uncluttered, preferably at a table or desk.
Make sure your internet connection is good and the rest of your tech isn't going to interfere with your interview. Consider wearing a headset, make sure your laptop is plugged into a power supply.
Avoid distractions or interruptions. Ensure that pets, children, flatmates or anyone else can't suddenly wander into view – this includes sitting in front of a window or in a busy café.