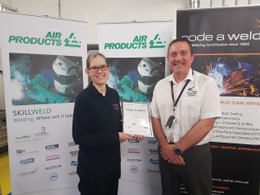 A local apprentice has gained a medal in her first welding competition – hosted for the first time at Derby College's Engineering Academy in Ilkeston.
Rosie Dales (25) from Ilkeston has joined her father and grandfather in the family firm Dales Fabrications in Crompton Road Industrial Estate as an apprentice welder and attends Derby College's Ilkeston campus on day release.
She joined students from colleges in Leicester and Leeds for the regional finals of the Skillweld competition – tackling four different challenges to test their skills and accuracy.
Rosie, who is supported at College by the Deaf Access Team said: "This was my first competition and, although I was nervous, it was a great experience and I know the areas that I need to work on to improve.
"I am returning to College in September to do my Level three Fabrication and Welding competition and I hope that I get the opportunity to enter the competition again."
Kevin Sherry, UK and Ireland Principal Application Specialist at Air Products, said: "Having seen firsthand the high-calibre of professionals involved in this regional semi-final, I'm prouder than ever to see the next generation of welders coming through the ranks. Rosie in particular showed great skill and we're sure she'll go on to have a very successful career in welding."
Derby College Head of Engineering Robin Webber-Jones concluded: "We were delighted to be given the opportunity host the SkillWeld competition and had some great feedback about the facilities and organisation on the day.
"Skills competitions such as this are excellent work experience for our students and apprentices and we are very proud of Rosie's achievements."