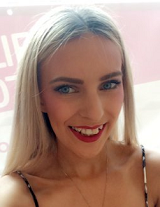 Subject:
A Levels
"Derby College undoubtedly helped shape my career"
About Amy Parry
Amy Parry left Derby College with A Levels in Psychology, Sociology, Drama, Theatre Studies and Media Studies.
She recently spoke to our Alumni team about her experiences at college and how they gave her the tools she needed to get into university and forge a career path for herself.
Find out about studying A Levels at Derby College.
0618