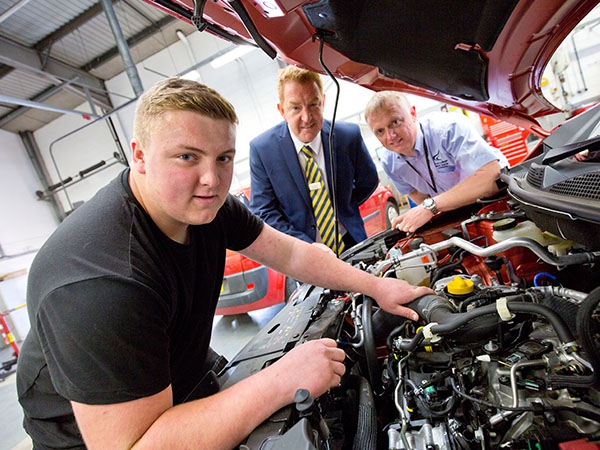 Bristol Street Motors Renault Derby has invested in its future workforce after hiring Derby College Motor Vehicle learner Jordan Coles as an Apprentice Technician. Jordan impressed bosses at the Sir Frank Whittle Road dealership during his work placement from Derby College and was subsequently offered a full-time technician apprenticeship.
During the three year-long apprenticeship Jordan will build on the skills he developed during his Level 1 in Light Vehicle Maintenance and on placement at Bristol Street Motors Renault Derby. Every six weeks, he will spend an entire week at Renault's Doncaster Training Centre where he will be trained by the French car manufacturer to use the latest in vehicle diagnostic and maintenance equipment.
David Orriell, General Manager at Bristol Street Motors Renault Derby, said: "I'm really pleased that we have been able to give Jordan an apprenticeship in our workshop. He showed great enthusiasm and ability during his work placement. No job was too small and he really impressed us all with his eagerness to learn. Jordan will now be at the vanguard of the trade, learning the latest developments in vehicle technology and advances in mechanics. He has a fine career with Bristol Street Motors ahead of him once he's completed his apprenticeship."
Jordan said: "I'm so excited to be starting my apprenticeship with Bristol Street Motors and Renault. I threw myself into the work placement and tried to absorb as much information as possible, and it's paid off. It's even better that I'll be working for a business, which I know has opportunities for me to progress in the future."
Matthew Curtis, Team Manager of Motor Vehicle Academy at Derby College, said: "It's fantastic to see one of our learners progress into a full time apprenticeship. It really demonstrates how well our work placement partnership with Vertu Motors is working and that there really are amazing opportunities out there for the young people who can prove their worth during work placements."
Please click for further information about Motor Vehicle study programmes and current Apprenticeship Vacancies.