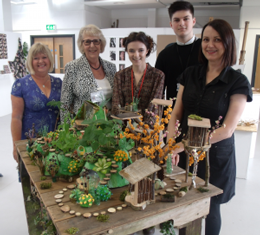 Two Derby College Art & Design students have won bursaries from Derby Decorative and Fine Arts Society to support their move into Higher Education.
UAL Art Foundation Diploma students Callum Dowling and Maddie Raithby have won £400 and £200 respectively after being shortlisted for the annual Bryan Harris Bursary award – named after the Society's founder and former chairman who died last year.
Callum (19) from Allestree impressed the judges with his abstract graphics depicting architectural gems in Derby city centre photographed from unseen angles.
Callum has been offered a place to study BA Graphic Design at UAL in London and will use the bursary towards materials for his degree programme.
Runner up Maddie Raithby (19) from West Hallam created a garden model illustrating a vision of the future when humanity lives in harmony with nature.
She now plans to study BSc Horticultural Garden Design at Nottingham Trent University and plans to use her bursary to buy research books.
Members of Derby Decorative and Fine Arts Society judged entries from five students at the Joseph Wright Campus Art and Design Faculty.
Derby Decorative and Fine Arts Society's Young Arts representative Anita Pearson said: "We have awarded a bursary every year for the past 20 years to a Derby College student to support them in their University studies.
"The standards of the students' work is extremely high every year and we now award two bursaries to make the judges' lives slightly easier.
"We wish all the finalists the best of luck in their future studies and were particularly impressed with the skill and creativity shown by Callum and Maddie who have produced some incredible work."
For more information about the Art Foundation Diploma and all the full and part time courses available at Derby College, telephone 0800 028 0289 or visit www.derby-college.ac.uk
Picture shows, from left: Derby Decorative and Fine Arts Society judges Vikki Fitt and Anita Pearson; winning students Maddie Raithby and Callum Dowling with Derby College Art & Design lecturer Tracey Ramsdale.