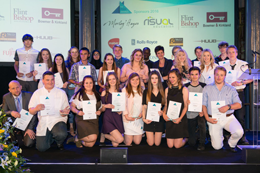 More than 200 people gathered for the 13th annual Derby College Peak Awards at the historic Roundhouse to celebrate the achievements of students across the organisation and at Merrill Academy, which is sponsored by the College.
The awards were compered by sports commentator Andrew James and presented by representatives of local businesses who had sponsored individual awards.
Derby College Chief Executive Mandie Stravino said: "The Peak Awards come at the end of a very successful academic year for Derby College in which we were rightly judged by Ofsted to be a 'Good College with Outstanding provision for learners with high needs and for partnership working with employers.
"Specifically Derby College was recognised as being a valued resource for the city of Derby and county of Derbyshire – providing an inclusive and welcoming environment and high quality facilities for teaching and learners.
"The Peak Awards is the highlight of the College calendar and I want to thank everyone who has helped to support these and all of our students to achieve their potential and set them on the path to their future careers."
Two special prizes were awarded on the night – Learner of the Year and Apprentice of the Year.
Learner of the Year was Suzanne Butler (18) from Littleover who has combined studying for the BTEC Level 3 Extended Diploma in Construction and the Built Environment with working for Derby architectural practice Morrison Design.
Soon after starting her full time College programme after GCSEs, she was offered an apprenticeship at Morrison Design and has now achieved enough UCAS points to progress onto a part-time Architectural degree programme at Lincoln University.
Suzanne, who was also presented the Construction award, said: "It has been hard work to combine a full time course and work but the whole experience has been amazing and I am looking forward to going onto university to fulfil my goal of being a fully qualified architect.
"Members of my family came with me to the event and I know they were very proud of me for getting this award."
Apprentice of the Year was awarded to Catherine Bull (20) who is one of the cohort of Higher Apprentices at JCB that have combined working at the company with a Foundation Degree and NVQ Level 4 Extended Diploma study programme at Derby College in partnership with Sheffield Hallam University.
Catherine is a Technical Service Engineer at JCB and will soon start her final year at university to gain Batchelor of Engineering degree.
She said: "I was delighted to be nominated for this award and it is a wonderful reward for all the hard work to juggle study and work.
"I have particularly enjoyed studying at Derby College which has a university style atmosphere but with far greater support from the lecturers.
"I love working at JCB and this has been the best of both worlds – gaining qualifications and earning a decent wage.  It was definitely the best decision that I have made and I don't have the debt that other students come out of university with."
Winners were then announced from across the College curriculum.
Academic Studies Learner of the Year was Rosie Midwood (18) from Horsley Woodhouse  who has combined A levels with a BTEC in Art and Design.  She is planning to do a one year art foundation at Loughborough University before choosing a degree in either textiles or costume design.
The Animal Science Award went to Equine Management student Megan Edwards (18) from Pilsley in recognition of her work to take additional qualifications.  She is returning to Derby College in September to start an Equine Studies degree.
Business student Emma Ashley (18) from Ilkeston picked up her curriculum award having gained distinctions in all her units so far.  She returns to College for the second year of her study programme in September.
The Care Award went to Childcare and Education Jamieleigh Wombwell (18) from Kirk Hallam who has been offered jobs at all four of her work placements. She has opted to progress onto Nottingham Trent University for a degree in Teaching with Special Educational Needs.
The Engineering Excellence Award was presented to Joseph Marsden (18) from Mickleover who has combined his Manufacturing Engineering study programme with working at Ecclesbourne Valley Railway and has recently secured an apprenticeship with SNC Lavalin in Derby.
Hospitality & Catering student Emily Truman (16) from Long Eaton was recognised for her commitment to the Finesse Collection Professional Cookery Employer Academy. She is returning to College in September to do the Advanced Diploma in Professional Cookery.
The Arts Award went to Robbie Short (19) from Derby in recognition of the quality of his work – taking inspiration from environmental issues. He has secured a place to study next year at the University of Edinburgh on the BA (Hons) Photography Degree with ambitions to work as a Forensic Photographer.
Motor Vehicle student Bradley Varty (17) from Sinfin was recognised for his success at a work placement with Hughes Brothers who have now offered him an apprenticeship – returning to Derby College on day release.
The Plant Science Award was presented to Jacob Watts (18) from Stanley Common who represented the College in the Young Horticulturist of the Year competition and gained work experience at Kew Gardens.
Sports student Natalie Seagrave (18) from Chaddesden was recognised for graduating from College with Distinction stars.  She starts her Sport Business Management degree at Sheffield Hallam University in September.
Darija Bartos (18) from Derby was awarded the Travel and Tourism Award following successful work experience programmes as a hotel reception.  She is now applying for Cabin Crew jobs.
Advanced Beauty Therapy student Ebony Saxton (18) from Ilkeston has gained distinctions in all her units and has secured a job at Isabella's Secrets beauty salon in the town.
Mature student Laura Hulme (25) from Loscoe was recognised for her dedication in combining her Teacher Training programme with working voluntarily at Ripley Academy where she has now been offered a full time job.
The Pre-16 Learner of the Year award went to Merrill Academy pupil David MacArthur (16) who has combined GCSEs at school with Motor Vehicle vocational programme at Derby College and returns there as a full time student in Setember.
And the Merrill Academy Learner Award went to talented musician Morgan Docherty (16) in recognition of her work as a student governor.
Employer of the Year was presented to triathlon wetsuit designers HUUB whose founder Dean Jackson has supported more than 300 learners over the year with talks and an Employer Academy.
Highly commended was Derby Teaching Hospitals NHS Foundation Trust which has worked in partnership with Derby College for more than 17 years to develop learning and development opportunities for staff and have also joined the Employer Academy programme to provide work experience opportunities for students.