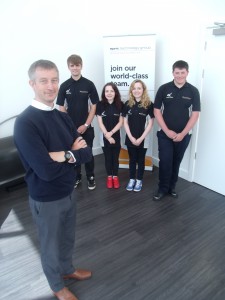 Derby College's Employer Academy programme, which has attracted widespread acclaim, has celebrated its first anniversary with a number of students progressing into jobs and apprenticeships.
There are 14 established Employer Academies involving a wide range of businesses and students from across the College curriculum – particularly in priority vocational areas highlighted by D2N2.
The Derby College Employer Academy programme was set up last summer to boost students' employability skills and job prospects.  It also gives employers the opportunity to shape the College curriculum and reduce their costs for recruiting young people into job and apprenticeship roles after their College course.
Derby College Business Development Director April Hayhurst explained that the Employer Academy programme was born out of the College's successful Employment and Skills Academies as part of the drive to enable business leaders to shape the curriculum and provide enrichment activities for students as part of their study programmes.
"Employers consistently tell us that they want young people who are work ready and have the employability skills that will help them to grow their business.
"The Employment and Skills Academies were designed to do just that by bringing together employers and their staff together with students to bridge the skills gap and providing young people with a spring board into employment.
"The response from employers has so far been fantastic but we are looking for more people to get involved in whatever way they can.
"Employers have taken the opportunity to influence education decisions and strategy – ensuring that the work we do is providing the skills they need to increase their competitive edge.
"It is also provides networking opportunities with other like-minded business leaders and develops individuals' teamwork and leadership skills through working with young people.
"The Employer Academies were a development of this initiative and have been welcomed both by the companies directly involved as well as other businesses in the industry sectors that are target areas identified by the D2N2 LEP.
"Employers across the board recognise that this innovative programme is an important way of developing curriculum programmes that deliver the skills they need in their own workforce.
"It also provides them with a potential pipeline of future employees and apprentices and employees to address skills shortages that many are facing.
"Our aim is therefore simple: to help smooth the transition from education to employment and with that, fill skills gaps in key industries across the city and region."
The programme was singled out for praise by Ofsted inspectors who recently graded the College with an overall 'Good' grading with 'Outstanding' features – including the partnership working with employers.
It was also commended by the Archbishop of Canterbury who recently visited the College to learn more about how the College and employers are better preparing young people for the world of work.
The Archbishop's visit was a particular cause for celebration for Joinery student Joel Orton (17) from Chaddesden who found out at the event that he had secured an apprenticeship with Derby-based MBS Construction thanks to the company's Employer Academy programme with Derby College.
MBS Managing Director Adam Stevenson said: "Joel has been working with us on a wide range of projects including outdoor fencing at Borrowash Victoria Football Club and the refurbishment of the Park Bikeworks for HUUB Design.
"He has the right skills and attitudes to work and I am delighted that he will be joining us as an apprentice this summer."
Joel said: "I am over the moon with this news. I jumped at the chance to join the Academy as I knew it would improve my chances of a job after College.
"It has been the opportunity to prove myself to MBS and I am really relieved that it has paid off."
Mr Stevenson explained the reason behind teaming up with Derby College to launch the Academy.
"In the residential building sector and the commercial maintenance industry, we need multi-skilled tradesmen who have the knowledge and appreciation of the requirements of each element of construction.
"This means that they work together more effectively and efficiently on site to get a job completed on time and within budget.
"The demand for maintenance operatives or multi-skilled tradesmen, is growing rapidly in the construction industry and our Academy will therefore concentrate on providing young people with broad skills that will be invaluable in their working lives."
Five Engineering students who are members of the epm:technology Advanced Composites Academy have secured trainee positions at the Derby company and will start work at the state of the art headquarters in early August.
Twins Dani and Nikita Johnson (19), Dean Allsopp (18), Toby Woodings (18) and Jasmine Evans (19) were part of the 25-strong Employer Academy who have benefited from work experience, special projects and master classes run by staff at the company.
They were all excited about the opportunities now open to them at the company.
Nikita said: "You have to take opportunities as they arise and I was really keen to be part of the epm:technology Employer Academy.  It is brilliant to have a job lined up at the end of College."
Toby continued: "I love sailing and have always been fascinated about how boats are made with lightweight and ultra-strong advanced composites.
"I will be working initially in laminating and fitting and, having seen how the company works, I can't wait to start working here full time."
Managing Director Graham Mulholland explained: "Advanced composites is the fastest growing area in engineering in the UK and particularly in Derby which is the country's number one high-tech city.
"As a leading employer in advanced composites, our own experiences support the national research that the main challenge facing this industry is the lack of employees with technical, practical and job-specific skills.
"We were therefore keen to work with Derby College to introduce advanced composites into the Engineering curriculum.
"By working closely with the students, we have built their industry-specific problem solving, team working and communication skills."
He continued: "Businesses are often critical about the education system and training providers have been guilty of delivering the skills that they think that employers need.
"Through the Employer Academy, we have had the opportunity to be in regular communications with Derby College, steer the training provided and effectively 'try before we buy' our next intake of trainees.
"They are the future managers in the business and, by nurturing them through the final year of their College course, we now have young people who are work ready and eager to get onto the first step of their career ladder.
"The Employer Academy programme has therefore been brilliant for us and the wider engineering business community area and I am proud that we have been at the forefront with Derby College to make this happen."
Derby College and Derby Teaching Hospitals NHS Foundation Trust have worked together for more than 17 years on a wide range of training and education programmes recruit and upskill existing members of staff.
The Trust also provides valuable work experience opportunities for more than 70 Health and Social Care students a year at the College as part of their course and to strengthen their applications to university and for apprenticeships.
This has been expanded under the Employer Academy programme with Health and Social Care students will initially benefit from additional expert lectures, workplace visits, special projects and further work experience throughout the organisation.
It is planned to expand the Academy in the future to include students in other vocational areas utilised by the Trust – ranging from Joinery to IT.
Among the first students to progress from the Academy is Jayde Prosser (19) who is now working as a Health Care Assistant at the Royal Derby Hospital until she starts her Nursing degree course at the University of Derby this September.
She will be working on flexible shifts during her three-year degree and plans to return to the Trust when she has qualified to pursue her career in Adult Nursing.
Jayde said: "The experience gained on the Academy was invaluable for my UCAS applications and has given me a real insight into working on a ward."
The Trust's Professional Development Adviser Simon Gibson continued: "The Employer Academy is part of our commitment to developing our future workforce and to raise the profile of the wide range of career opportunities available both here and across the NHS.
"We need to ensure that we are recruiting people with the right skills, attitudes and values and working so closely with the College enables us to spot the young people who can blossom and develop within our organisation.
"This has been a successful first year which we will now build on to reflect the diverse range of career opportunities available in the Trust."
Senior Ward Sister Mandie Linnington added: "It is brilliant to see young people blossoming as HCAs and as individuals.  They are the lifeblood of the wards and learn the skills in this role that are invaluable in their future working lives."
Professional Development Facilitator Diane Sessions concluded: "There are some particular allied healthcare professions that are experiencing national recruitment issues such as Physiotherapy, Occupational Therapy, Midwifery and Radiography.
"The broader scope of the Academy moving forwards will hopefully provide us with the opportunity to address these skills shortages here in Derby and also widen the students' horizons when they are considering future careers in healthcare in the city."
The Employer Academy currently consists of the following businesses and organisations:
–  Atlas Building and Groundworks Academy: aimed at providing Construction students at the College with the multi-skills they need for the groundworks industry
–  Cricket Derbyshire Hospitality Academy: which also provides Catering and Hospitality students at the College with potential for paid part time work
–  Cricket Derbyshire Sports Academy: based at Derbyshire County Cricket Club: providing training and work experience opportunities for Sports students
–  Derby Teaching Hospitals NHS Foundation Trust: aimed at broadening young people's career opportunities in healthcare.
–  Derby Telegraph Media Sales Academy: giving Business students a unique insight into the demanding world of media sales
–  epm:technology Advanced Composites Academy: introducing Engineering students to the rapidly expanding advanced composites manufacturing industry
–  First Response Business and Finance Academy: recruiting students onto Degree Apprenticeships to help them grow their business.
–  Hannells Estate Agents Academy: aimed at Business students to focus on the career opportunities in the property sales and lettings industry.
–  HUUB Marketing and Product Development Academy: enabling Business students to be involved in Huub which is a growing company designing triathlon wetsuits for international markets
–  MBS Construction Skills Academy: providing young people with the with the multi skills they will need in the changing construction industry.
–  The Finesse Collection Professional Cookery Academy: with Catering and Hospitality students working alongside top chefs at the Cathedral Quarter Hotel, Donington Manor Hotel and at the host of events handled by the company's outdoor catering division – Finesse Hospitality.
–  risual Microsoft Academy: working Microsoft's UK Country Partner of The Year 2015, risual Limited, to address a growing shortage of digital skills and bridge the gap between industry and education.
–  risual Autodesk Academy at the Roundhouse: to upskill Professional Construction and Engineering teachers and students in the latest Building Information Modelling (BIM) technology software.
–  Sasie Lindhurst Renewable Energy Academy: aimed at introducing Engineering students to career opportunities available in the growing renewable energy industries.