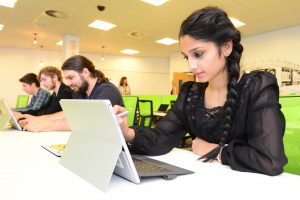 Derby College has teamed up with risual – Microsoft's leading UK partner – to launch a new IT apprenticeship qualification designed to address a growing shortage of digital skills in the workplace.
The one-year Advanced Apprenticeship for IT, Software, Web and Telecoms Professionals is  for young people already working in junior IT roles at local businesses who require formal training and for school leavers looking to earn whilst they learn.
Training is delivered both in the workplace and at the East Midlands' first risual Microsoft Academy at Derby College's Joseph Wright sixth form centre in the Cathedral Quarter.
Entry requirements for the apprenticeship are GCSE English and Maths at grades A to C and the qualification opens doors for learners to progress onto diploma and then degree levels if they wish.
Derby College was graded by Ofsted earlier this year as 'Good' with 'Outstanding' features – including its work with employers.
Derby College Deputy Principal Employer and Economic Affairs, April Hayhurst, explained: "Since opening the risual Microsoft Academy, we have offered additional industry-relevant IT training for staff and students to bridge the gap between industry and education.
"A key aspect of our partnership work with risual is to provide this bespoke apprenticeship programme which includes specific Microsoft units that employers require and value.
"With a proven track record in running high-quality IT apprenticeship programmes, this qualification in partnership with risual is a real opportunity for businesses to introduce fresh dynamism, thinking and ideas into their business and to keep pace with new technologies.
"Apprenticeships can deliver real returns to an employer's bottom line – filling skills gaps while boosting efficiency and competitiveness.
"For the apprentice, it is the opportunity earn whilst they learn with real job training and to gain recognised qualifications that are valued worldwide."
risual Education Director Tina Jones continued: "Research shows that there will be a 740,000 shortfall in IT professionals in the UK by 2017 which shows the importance of investing in digital skills now.
"There are more than 1.2 billion users of Microsoft across the world and employers tell us that they need such skills in their workforce.
"The level three apprenticeship is a key part of the risual Microsoft Academy programme to ensure that young IT professionals have the skills that they need for their organisations to grow.
"We partnered with Derby College because of their commitment to improving digital literacy – recognising that it has equal importance to English and Maths right across the academic and vocational curriculum in order to make our students effective citizens and members of the workforce."
Derby College Chief Executive Mandie Stravino concluded: "The launch of the risual Microsoft Academy fits perfectly with our purpose of predicting and serving the needs of our learners, the economy and society.
"These state of the art facilities at the College are a fantastic resource both for our learners and for apprentices and employees in the regional workforce.
"It greatly enhances the employability of our learners and apprentices and will provide employers with the skills they need to improve their competitive edge."