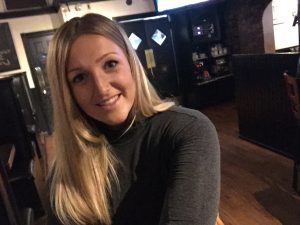 Beth Till studied her NVQ in Business & Administration Grade Level 2 & 3 at Derby College as part of an apprenticeship. She now works in the Cayman Islands as a Service and Marketing Coordinator. She spoke to our Alumni team about how she got where she is today.
"I found by having a college course on my CV, it made my CV stand out more," said Beth. "Should I have just gone from school to work, I'd have had nothing to show for what skills I've learnt or that I am a professional in what I do.
"I started off as Apprentice at a Railway Training Centre and completed both my NVQ Level 2 & 3 there," she said. "I was there for 2 years and then I moved on to another admin job at a new company. I felt that I'd outgrown my role and if I wanted to progress, I'd have to move business to another business.
"From here I worked closely with the Project Management team and picked up some valuable skills in that department and was enjoying my time there, until one day around twenty of us were made redundant. At the time, I panicked, but it was also what I needed to push my career in the right direction. I applied for numerous jobs – anything and everything!
"I also applied for a job in the marketing team at the company I was already working for, and they hired me, saying they would pay for me to complete a marketing qualification – CIM Principles of Marketing, which is a worldwide recognised qualification.
"I completed the course within a year and loved the role I was doing as a Marketing and Events Coordinator," said Beth. "In December last year, we were told the company were relocating to Birmingham and we could go if we wanted to, or take redundancy.
"I was okay about travelling to Birmingham, as it meant that I could move into a new swanky office and continue the job I enjoyed, however an ex colleague got in touch with me and mentioned there was a job going at her place. She worked for the local football club, who I am a massive fan of, so I applied and got the job!
"The role was as a Digital Marketing Executive and I loved it. I was able to give my full focus on digital marketing as opposed to doing an all-round marketing role and I was able to develop my skills and learn even more!
"I was there for 8 months until my partner was offered a role in the Cayman Islands. We decided to go and see how things work out. It took me 6 weeks to find a new job in administration and marketing. I'm now hoping to complete the next qualification which will make me a recognised marketing manager.
"I'd like to achieve the highest possible position I can," said Beth. "I always taken an approach that even though I haven't been to university, it doesn't mean I can't do the job. This is my drive! I want to make people realise that there is another route to being successful."