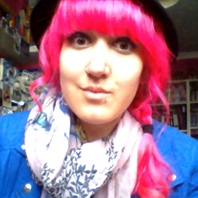 Chloe arrived at Derby College unsure where she was going to take her passion for art and certainly hadn't considered taking her education to university level. Today she's set her sights on using her newly-learnt skills on some pretty-impressive career goals as she studies hard at Plymouth College of Art.
College life
"I had no idea what I wanted to do, and was convinced that I wasn't going to bother going to university," Chloe told the Derby Alumni Team. "Roz Beeson at Derby College made me want to go."
Chloe admits that the course at Derby gave her the push she needed to take her art education further.
"The variety of courses available made the college seem like the best option for me," she said. Chloe studied Fine Art, Textiles and History at Derby College, but her experiences with us encouraged her to specialise her choices and pursue a university course.
"Derby College made me think that going to university was worth bothering with after all!"
Chloe left us in 2013 to take a place at Plymouth College of Art, a specialist, independent art school offering a range of university-level qualifications such as BA (Hons) in art-related subjects.
Artistic Inspiration
Now in full-time Higher Education studying a BA (Hons) in Contemporary Crafts, our former student Chloe is enjoying developing her skills in new areas, including working with glass. We asked her what her proudest career moment to date is, and she replied: "Realising my goal of making a collection of glass jellyfish!"
Finally, we asked Chloe what's next:
"I want to design floats for the parades at Disneyland, and have got some work experience lined up to prepare for this."
We wish her the best of luck!