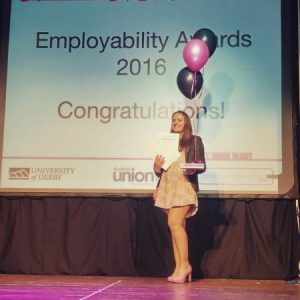 After graduating from Derby College with a BTEC Level 3 Extended Diploma in Travel and Tourism, Ewelina was offered a place at the University of Derby studying for her BA (Hons) in International Tourism Management.
She spoke to our Alumni about the amazing experiences she has had travelling as part of her degree, and how the skills she learnt at college helped her to get there.
"My time at Derby College has helped me a lot with the tourism knowledge I need," she said. "This knowledge can now be expanded into further useful areas such as marketing and human resources.
Of course, making the transition from college to university life is still a challenge – Ewelina spoke to us about getting used to a different way of learning, a process which was made easier by the skills she learnt during her time at Derby College.
"At college, I gained organisation skills and was therefore able to make sure that I always handed my university work in on time – this has been a huge factor in my success at university."
"When first starting university it can be hard to adapt to the environment and how things work," she said. "You notice that everyone from second year and lecturers have expectations which you don't always understand right away, so it is very challenging to make sure that you understand them to achieve higher grades.
"The highlight of my degree has been going on a cultural exchange programme to South Korea and China in partnership with Daegu University in Daegu," she said.
"I have not yet decided what I want to do after university, so I have been getting involved in a lot of things to make sure that I have experience that is suitable for any business or tourism-related job.
"I've learnt not to be afraid that you are not good enough because university is easier than you think if you find a group of friends that are there to support you."