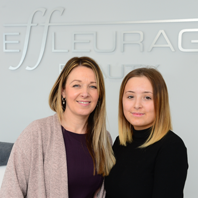 Former Derby College hairdressing student Marissa Hunt is celebrating nearly 10 years of running her own successful salon – Effleurage in Langley Mill.
And, in line with her ongoing growth plans, she has recently expanded the business to include beauty, as well as taking on her third Derby College apprentice.
Danielle Fretwell, who is 17 and from Heanor, has worked at Effleurage as a Saturday girl since she was 14, and is now on an apprenticeship at the salon, while studying at college one day a week.
Marissa, who is also from Heanor, is pleased with Danielle's progress.  She said: "Danielle's a hard worker and the clients really like her.  She has great people skills which is one of the most important requirements in this job.
"She's training in hairdressing at the moment but I can see her crossing over at some point to do beauty as well.  I think she'd do well. She's good at head massages."
Marissa has previously taken on two hair apprentices from Derby College, both of whom now work as self-employed stylists.
And, as someone who attributes a lot of her own success to the help she received while training, Marissa is keen to create employment opportunities for other people.
She said: "I'm fully qualified in hair and beauty but I'm not doing either at the moment. Instead I'm concentrating on building the business. I didn't go into this to make money quickly. I believe in investing the profits back into the salon so we can keep moving forward and provide a great service to our local community."
Effleurage, which has nine self-employed staff, is a contemporary salon offering all the latest beauty treatments. It aims to provide clients with everything they would expect from a city salon but in their own local area.
Marissa added: "I always knew I wanted to have my own business and had my sights set on opening the salon even before I'd finished my training at Derby College. My lecturers knew I was ambitious and supported me to reach my goals.
"Over the years we've built up a good regular client base as well as attracting passing trade. Our aim now is to grow the beauty side and continue to support people like Danielle who want to join the profession."