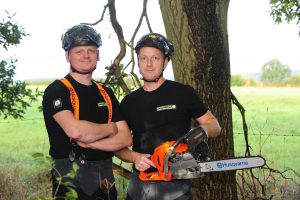 Two former mature learners from Derby College have joined forces to set up their own business – using the arboriculture skills they learnt at Broomfield Hall land-based industries campus in Morley.
Andrew Fretwell (39) from Swanwick and Mark Hall (40) from Alfreton both signed up for the Forestry and Arboriculture study programme at Derby College after taking voluntary redundancy from Tesco.
They graduated with first and second place grades in the one-year diploma programme and have now set up Green Line Tree Services with a number of clients already under their belts.
Mark said: "Andrew and I both decided to take voluntary redundancy and started talking about our next steps.
"I remember someday saying that there were only around 6,000 qualified arborists in the country so we took the decision to start our own tree services business and signed up at Derby College.
"The course was excellent and you learn so much from the theory of woodland management to the practical side.
"I must admit that climbing trees is not for the faint hearted and you need to build confidence in the gear and in what you are doing.
"The first time I stood on the very top branch with my head looking out of the top – overlooking Broomfield Hall campus and the surrounding countryside is a moment that I am never likely to forget."
Andrew continued: "I have always had an interest in trees and had it in my mind that this was something that I would like to do.
"At an open day I spoke to a former learner in his fifties and he inspired me to sign up for the course.
"I loved it from start to finish and the lecturers were brilliant – especially Simon Hunt who gave us a lot of attention on the practical training."
Andrew completed the course with the highest grade and received Arboriculture Student of the Year at this summer's Derby College Peak Awards.
"He concluded: "We are really enjoying working in the business.  We have already done a number of jobs and are building up as we go along."