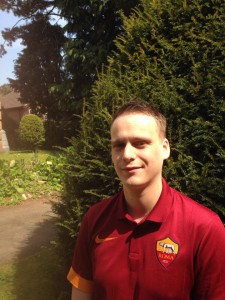 A former Derby College student has started his own company to bridge the gap in services provided for young people which have been in danger of being hit by local authority funding cuts,
East Midlands Youth Service provides sub-contracted youth service provision as well as training and mentoring for professionals working with young people.
Craig Thomson (24) was inspired to work in youth services whilst studying Uniformed Public Services at Derby College. After the course, he was elected as Deputy President and then Acting President of Derby College Student Union.
He is currently completing a BA (Hons) in Children and Youth Work at Bishop Grosseteste University in Lincoln.
He has been a volunteer youth worker for New Life Church in the city alongside his previous role at Disability Direct which included running a multi-generational befriending service, supporting young people with disabilities and raising awareness of hate crimes through training and talking to young people at schools and colleges.
Craig explained: "Youth provision is not a statutory service for local authorities and there have therefore been a lot of cuts both nationally and locally in services that support young people.
"This has led to a widening gap between the need for and provision of much-needed support and services for young people aged 11 to 18.
"Our aim is to provide a quality service for the public, private and voluntary sectors who want to out-source their youth provision.
"We are also offering training and mentoring for youth workers and organisations who want to develop the work they do with young people and support professionals in their work.
"We will be working in partnership with a wide range of organisations to share good practice and promote the provision that is available on our website."
Craig continued that he was inspired to become a youth worker and to set up his own business by his lecturers at Derby College.
"I did not really take school seriously and continued to mess about when I started College.
"Our lecturers however had high expectations for us all and showed us that we could achieve anything with perseverance and hard work.
"They brought the best out in me and I started to believe that I could make something of my life.
"There was a strong citizenship element to the course – highlighting that we should add something positive to our local communities.
"We also did a lot of volunteering as part of the College course and my work with the New Life Church led to the job at Disability Direct. With eight years' youth work experience under my belt I felt ready to start my own business.
"As well as setting up East Midlands Youth Service, I stood for election in the city council elections in Mickleover. I have also been invited to become a member of the Commonwealth Society and will attend the Queen's birthday celebrations in the Mall this June."
Derby College Chief Executive Mandie Stravino added: "We wish Craig every success in his new venture and I am delighted that his time at Derby College has prepared him for employment and now to set up his own business."
For more information, please visit www.eastmidlandsyouthservice.com