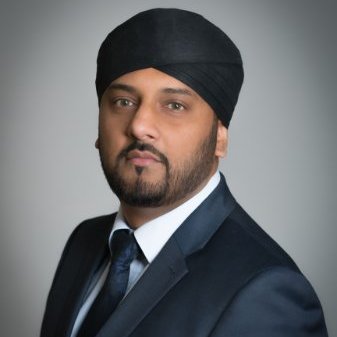 After studying BTEC Business and Finance at derby College, Harj Dhanjal has progressed to Vice President – Head of Continuous Improvement at Rolls-Royce Plc.
"I always wanted to do well in Business and Finance," said Harj. "Derby College gave me the basic skills to excel and apply to University, where I completed my Higher Education. This eventually led to Rolls-Royce sponsoring my MBA at Derby University."
Harj spoke to our Alumni team about how his time at Derby College helped him get where he is today. As well as his qualifications and skills gained as part of his BTEC in Business and Finance, Harj said: "The OXFORD Young Business Enterprise scheme at Derby College was a big help and gave me insight into business and how working in teams is critical to business success."
However, before Harj came to Derby College, he wasn't always as dedicated to his ambitions.
"I came back to education after being expelled from three schools in Derby," said Harj. "One of my proudest moments to date was achieving a 100% Distinction in my BTEC First Diploma in Business & Finance at Wilmorton – Derby College."
Harj also gave our Alumni team an outline of his career so far.
"My career has developed from Business Improvements, qualifying in Quality and Business Improvements, via becoming a Lean Six Sigma Master Black Belt and going on to manage the Marine Sector Rolls-Royce as the Vice President of Continuous Improvement, including quality," he said. "The greatest challenge has been a business transformation over the past three years. We have gone from 7,000 people to 4,000 people, still maintaining a high performance culture."
Harj's ultimate goal is to own his own business in education and management consulting. "It's important to focus on your goals, but don't lose sight of your vision," he said.