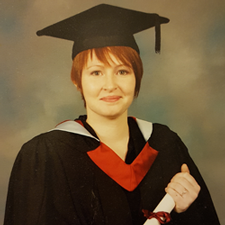 Harley Jackson went "from being a single teenage mum with no self-esteem or GCSEs, to a university honours graduate with a business and a team of people," thanks to her time at Derby College.
Harley studied for her diploma in Complementary and Holistic Therapies at Derby College. She spoke to our Alumni team recently about the inspirational teaching she received and how it spurred her on to find success in her industry.
"Miranda Morton is simply the best teacher I ever had," said Harley, who credits her success to being "all because a teacher saw a spark and believed in [her] potential."
Harley graduated from Derby College with a Diploma in Complementary and Holistic Therapies and practical skills in Aromatherapy, Reflexology, Body Massage, Holistic Facials and Indian Head Massage.
As a result, she was offered a place at the University of Derby.
"I graduated from university with a BSc (Hons) degree in International Spa Management in 2007 and have done a lot of Continual Professional Development courses in other therapies since," said Harley.
"I now have my own therapy business and I am a Leader with Neal's Yard Remedies Organic, so I support my team of therapists and consultants to start and grow their own businesses. I also volunteered to jointly co-ordinate a therapist networking group with the FHT for over a year but as my business grew I had to stop.
Harley is now considering a Master's degree.
"I am considering going back to university next year," she said. "There is an MSc available in Spa now, but I'm actually also looking into doing an MPhil to do more of my own research in the industry, because I really enjoy that.
"My five-year plan is to keep learning and growing myself and my business, to keep treating my clients and continuing to help people feel better, supporting my team of therapists and consultants, and to be an Ambassador with Neal's Yard Remedies Organic. I also want to have written something and have it published and to be really loving my life."
"There is greatness in everyone, but it takes dedication to draw it out of someone when they can't see it for themselves," said Harley. "I am forever grateful to Miranda Morton and Derby College and I can't pin it down to anything specific, there are too many things to count, but it has honestly given me a life that I wouldn't have even dreamt of."