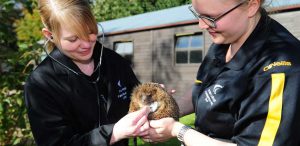 Joanne Bollands studied Animal care at Derby College. She's now a fully qualified Animal Care college tutor.
"Studying Animal Care at Derby College really helped my with my career choices," she said. "It helped me decide to go on to study at university."
Joanne studied at the Derby College Broomfield Hall campus, where she gained hands-on experience caring for farm animals, small animals, exotic species and rare breeds on a full-time Animal Care course. It gave her the skills, knowledge, confidence and experience to progress to university and become a college tutor herself.
Joanne says she uses the skills she learnt at Derby College every day, particularly the "practical animal care skills and organisational skills."
In her role as an Animal care college tutor, her duties include preparing and delivering lessons, marking and setting assignments, assessing student practicals, maintaining student administrative profiles and taking registers.
"Becoming an Animal care tutor has been my career highlight," she said. "It was worth the challenge of university exams!"
Of course, you don't have to go to university to get a university-level qualification in Animal care. Derby College also offer Higher Education qualifications which allow you to progress to roles such as veterinary nurse.
Joanne hasn't decided on an ultimate career goal yet, as she wants to experience lots of different things. "Be prepared to expect a range of things in animal care, including cleaning, health care and working outside a lot."