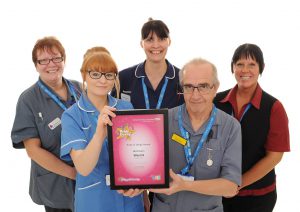 John Burns got his Level 2 Diploma in Health and Social Care at Derby College after a joinery job in a nursing home inspired him to change his career completely.
He's currently a Health Care Assistant at Derby Teaching Hospitals NHS Trust. Here's what he had to say to our Alumni Team.
"This was a total career change for me, having been a self-employed joiner for many years," he said. "Then I got a job as maintenance person in a nursing home and really got into the health and social care aspect of the nursing home. Now I'm working on a ward as a Health Care Assistant and absolutely loving my career.
"College helped me tremendously," said John. "Without the Level 2 Diploma I would not be where I am today."
"My role involves looking after patients in hospital, taking observations, personal care, assisting nursing staff, etc. I am now one of the End of Life Care contact people on my ward for patients and relatives to talk to about EOL Care," he said.
"The challenges are varied, but I think the one that stands out is helping a relative when their loved one was dying. My eldest grandson was also on end of life care at the same time and I knew exactly what this relative was going through.
"One of my proudest moments was being nominated for an Outstanding Care Award by a colleague and also being part of the team that did win one such monthly award.
"I think I'm happy with my lot," said John. "In five years, I'll be nearing retirement (hopefully)."
Finally, John had some words of wisdom to share with his fellow alumni:
"Strive to do your best at all times. Don't be afraid to be resourceful and use your own initiative. Above all, have confidence in yourself and your abilities."