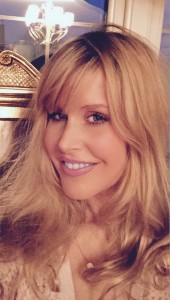 Former Derby student, Julia Suzuki, has many strings to her bow. She's a business woman, brand ambassador, public speaker, mentor, mother and now fantasy fiction author. After graduating from Derby College in 1993 with a BA (Hons) in Business Administration and French, Julia has had a hugely varied career. She took time out from her busy schedule to talk to our Alumni Team.
"Getting published was a very rewarding feeling for me, and as I recall getting my first job at Land Rover brand management was a great moment," Julia told us of her career highlights. "Derby College can provide a wonderful educational platform to help you fly high."
Julia's fascinating career so far
Julia's career started off working with some big names in the business world.
"After graduating from Derby College I worked for Land Rover in brand management," said Julia. "After this I had a National Accounts Manager role with Disney."
This role involved the sales and marketing of Disney movie merchandise to Empire Stores, Harrods and Hamleys. She also handled product launches for Barbie.
Julia left Disney in 2000 to start her own promotions agency, ModelTeam 7, where her clients included Aston Martin, Jaguar, T Mobile, The Ryder Cup and Police Sunglasses.
"I always knew I wanted to work in business and when I started to work within companies I realised that I wanted to run my own life agenda and business pathway."
"A few years later," said Julia, "I went into business partnership with David Lloyd, the real estate and leisure entrepreneur." Our talented alumnus was the New Business Development and Licensing Director for David Lloyd Resorts, a venture of the gym founder and Davis Cup Captain, David Lloyd.
Becoming an author
"Becoming an author was a change of career for me – but actually the main character in my stories is something of an entrepreneur himself and as such there are a lot of key messages in the books.
"I currently have shareholdings in various companies, and am in the process of licensing my children's series into merchandise – whilst writing more books."
Julia has her Business course at Derby College to thank for many of the skills that have helped in her ascending career.
"Particularly the business administration elements which have enabled me to manage my own company effectively.  I also learned to become independent-minded and felt this was supported in my degree. My dissertation was about using IT for competitive advantage and this certainly has been helpful in my business enhancement.
"The course was modular and enabled me to take the components I was interested in – I chose it for that reason. I think this is very valuable as students can really focus on where they want to develop their skills."
What's next for Julia?
"As a business woman I have various business interests in both real estate and publishing. As a published author I undertake many author speaking events at the leading schools nationwide via my agent. I am also brand ambassador for several companies and provide mentor support for some key individuals.
"Now that my son has nearly grown up (he is fifteen) I am even better positioned to push my career to the next level. I have a clear mind map of what I'd like to achieve, and it includes more of the same – but on a bigger scale."