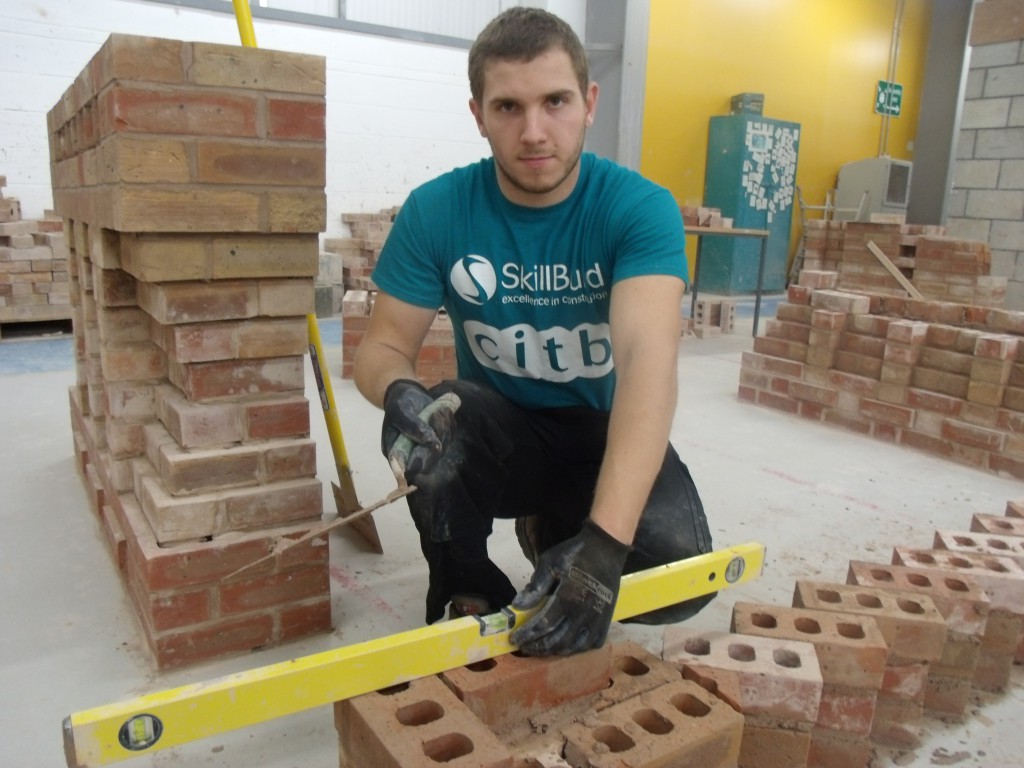 A former Construction apprentice at Derby College has won a place in Squad UK for WorldSkills Abu Dhabi 2017.
Zack Lysaczenko (21) from Chellaston is now in with the chance of representing the UK construction industry on the world stage after excelling in the finals of the WorldSkills UK skills competitions in Birmingham.
WorldSkills is the largest international skills competition in the world. Held every two years, the competition sees around 1,000 young people aged 18 to 25 from all over the world come together to compete for medals in more than 40 different skills. WorldSkills Abu Dhabi takes place from October 14 to 19 October 2017.
In preparation for this event, Zack will now participate in a training and development programme before the final Team UK is selected.
Zack, who works for his father's building company 'C The Lite', has been an apprentice at Derby College since leaving school at 16 – combining work with gaining qualifications in plumbing and brickwork.
Zack said: "I was placed in the national finals in Birmingham last November and have just been told that I have made it into the UK squad.
"I am over the moon and am now waiting for the programme details to find out where we go from here.
"I enjoy the challenge of competitions as it is good to test what you can do under pressure and the scrutiny of judges. I have also grown a lot in confidence by entering competitions through the College.
"The decorative features involved in the brickwork competitions are something that I would not normally do in my day to day job. The most important thing is accuracy and getting finished on time."
Zack's dad Pietro continued: "Zack is a perfectionist and we are always in awe of how he tackles a job – whether that is in a competition or in his every day work.
"We are so proud of him and will be supporting him all the way as he goes on the training sessions to see if he can make the final team.
"These competition are a fantastic way of encouraging the next generation of skilled tradespeople and highlighting the talent that is out there."
Pietro set up C The Lite eight years ago after leaving his job with British Gas and was delighted when his twin sons Zack and Luke, who trained as a painter and decorator at Derby College, said they wanted to join him in the business.
"This is great news for Zack and for the business. Our customers are just as excited as we are about the doors that this will open for him."
Among the company's customers is the Harpur Crewe Estate. Agent Amy Biddell continued: "The Harpur Crewe LLC have employed C The Lite to carry out various refurbishment and property maintenance jobs on their Estate since 2014.
"All of the employees conduct themselves in a courteous and professional manner and we have received particularly positive feedback from tenants regarding Zack whose standard of work is excellent."
Her views were echoed by Derby College Construction Lecturer Geoff Grace: "We always had high hopes for Zack and it is brilliant news that he has made the squad.
"Derby College has a great track record in this competition including a previous apprentice Jason Stanley who made it through to the UK Squad.
"We hope that Zack can go one better and be selected for the final team that goes to Abu Dhabi and we will be providing him with any support that he needs to achieve this goal."
Carol Stott, Chair of Find the Future, which manages the UK's entry into the WorldSkills Competition added: "Skills competitions showcase the levels of performance that can be achieved by individuals and organisations through high quality further education, skills training and apprenticeships in the UK.
"I offer my congratulations to every young person that has earned a place in Squad UK and wish Zack the best of luck in his training."