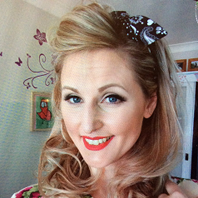 Michelle Carlos is an experienced Social Support Worker for learning disabilities. She has worked in the Health and Social Care industry since 2007, most recently as a Nursing Assistant for Derby Teaching Hospitals NHS Foundation Trust.
Yet Derby alumnus Michelle Carlos has many other strings to her bow. An avid enthusiast for health and fitness – Michelle hobbies to date include competing in powerlifting with the British Drug Free Federation, competing in bikini competitions – and most recently, completing a Level 2 Fitness Instruction course at Derby College so she can become Derbyshire's first dedicated fitness coach for learning disabilities and mental health. In 2015 Michelle founded JUMPZ Fitness, in order to create a fitness environment for people with learning disabilities.
She also recently re-entered the armed forces as a Royal Navy Reserve, so she can "support our nation but also to enhance [her] own fitness levels to the highest standards so [she] can continue to motivate and be a role model to other individuals."
In 2016, Michelle did just that, when she was nominated for Derby and Derbyshire Most Inspirational Women in Sport.
Here's what our dedicated and inspirational former student had to say to our Alumni Team about her amazing journey.
Michelle's story so far
"When I was 17 I joined the Royal Navy reserve in Portsmouth, and had various jobs but never a career," said Michelle.  "I left the RNR and moved to Derbyshire, again not really knowing what I want in life.
"Years passed and I had my children and my life sort of focused around them and not me. I worked as a Social Support Worker for learning disabilities, in which I now have nine years experience.
"For the first time ever joined a gym at the age of 31. Within a short space of time I found a goal and that goal was to compete in Miss Galaxy Universe. I competed for the next two years, placing fourth in my category, which was such a great achievement. I continued my love of competing for the next two years, but this time in powerlifting, placing third in my weight category at national level.
"Because of the amount of training that I did, I used to take my weights to work and I would do workouts during my breaks. My clients always seemed interested in what I was doing and therefore asked questions about health and fitness.
"This gave me the idea to set up fitness classes for learning disabilities, but to do this I needed to be qualified to take them. So in 2015 I enrolled onto the Derby College Fitness Instruction course. I found that the evening class fitted in well with my day job and children.
"Once I was qualified I set up Jumpz which provide sports classes for learning disabilities and classes for mental health.
"Without my sports qualifications I would never have set up Jumpz, and with the support of Derby College I actually hold my weekly fitness classes at the Johnson Building on the Derby College campus.
"I continue to work closely with all my clients and I think it is important to not just be an instructor but to use my experience as a support worker to give positive and fun classes.
"Jumpz made me want to continue my love of helping people, so once again I enrolled onto a Maths class at Derby College in 2015. This was to help me gain the confidence to pass my maths tests with the Royal Derby Hospital and the Royal Navy. My maths teacher, Jackie, spent a lot of time with me helping me to understand the questions and I'm happy to say I passed them.
"I have achieved so much since going back to college," said Michele. "A job with the Royal Hospital and Healthcare Trust and the Royal Navy, as well as becoming self-employed with Jumpz.
"In five years' time I hope to see myself employing people who need that extra help in life. I want to be a role model to all working mothers out there. I will probably see myself on a warship making up daft fitness games too!"