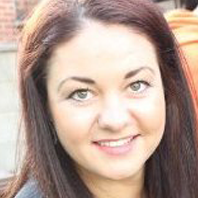 Rita Jansone returned to education in 2013 to study for her GCSE's in English and Maths after she didn't get into university. She passed with flying colours and is now at university studying Accounting and Finance.
Our dedicated former learner agreed to speak to our alumni team about her experiences.
"I had been refused a place at the University of Derby, so decided to better myself and study English and Maths," said Rita. "Derby College has prepared me for life at university, and I was vital in my success in securing a place at university this time around."
What was it like returning to education?
"I was lacking writing skills and confidence when I started my two GCSE courses at Derby College," said Rita. "The teachers helped me to improve on my Maths and English skills and also supported me in all the things I needed to do to secure the place at university. It was a very proud moment when I got in.
"I'm now studying a degree in Accounting and Finance. It was a huge challenge, but with hard work and the support I got from Derby College I have secured a place and have completed the second year of my degree.
Rita is currently aiming to achieve excellent grades in her degree, before finding a job as a Financial Accountant.
"In five years' time I want to be working successfully as an accountant in a big frim," she said.
"I've learnt to never give up on my dreams, and always seek to achieve it no matter how long it will take you to do it."