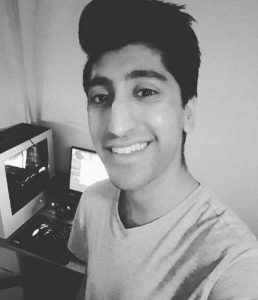 Sameer is a Junior Developer for Sytner, the UK's leading prestige car retailer and the No.1 Sunday Times' Big Company to Work For.
Now on his way to achieving his career goal of becoming a Senior Developer, Sameer spoke to our Alumni team about how Derby College inspired his love for coding and helped get him where he is today.
Sameer studied for his BTEC Level 3 Extended Diploma in Business and IT at Derby College. At first, he thought he wanted to begin a career in Accounting, but was inspired by his course to pursue a different path.
"I believe it to be somewhat of a rare thing for people to know exactly what they want to do at a young age," said Sameer. "I most certainly didn't. I sort of just winged it until I arrived at Derby College.
"I thought, you know what I had fun doing in college? Coding. It was new to me. An unfound love until that point and I've loved it ever since.
"My time at Derby College broadened everything I knew in regards to IT, such as software, graphic design and the likes," he said. "Heck, it started my interest in coding."
After his BTEC, Sameer began an IT Level 3 Apprenticeship.
"The love and fun I had from coding at Derby College was more than put to the test here and I learnt an unbelievable amount in regards to development," he said. Sameer learned software development from scratch in just a year, which he says was an enormous challenge, but getting his current job at the end as a result was a proud moment.
"I now work as a Junior Developer for an amazing company and I'm loving it. I mainly develop web-based applications, websites, console applications and the likes. I'm looking after my own projects and working with others to ensure the end user get what they need."
Sameer's next goal is to become a fully established Senior Developer at Synter within 5 years.
He also had some advice to share with anyone hoping to pursue a similar career path.
"Have fun with it," he urged. "Gain experience, more than anything. Its good knowing technical terms but if you can't do the work, what's the point? Get hands on! Teach yourself if you have to. Love it."