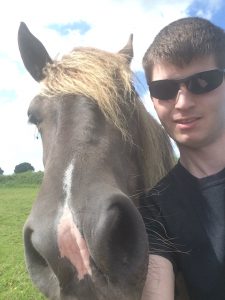 "It was 4am on a cold March morning and a call came in for a cardiac arrest not far from base," Samuel told our Alumni team. "The patient was 38 and, at the time, was the youngest cardiac arrest I had been to. Once on scene, he was found to be in ventricular fibrillation. One shock from the defibrillator was delivered, this put his heart back into a normal rhythm. We ran him to hospital and a week later he started work again. I'd say this is the proudest moment so far."
Samuel studied his Level 3 Extended Diploma in Uniformed Public Services at Derby College. Now an Emergency Medical technician for the East of England Ambulance Service, he agreed to share his experiences with his fellow alumni.
"I always knew I wanted to work my way up to becoming a paramedic," explained Samuel. "I was first interested when I joined St John's Ambulance at the age of 14.
"Currently I'm an EMT, which is the level below a paramedic. I do the same job, usually working with students. Certain drugs I'm unable to administer as these are paramedic drugs and currently I'm unable to cannulate, but these are the only two differences. I work in ambulances and cars.
"The skills that I gained at Derby College were so rewarding. Without these skills I would have struggled getting the job I'm doing now. I found the Incident Command and Management modules very useful, and also PE, as the job I do is very physically demanding."
"The greatest challenge I've faced in my job is coming to terms with the level of mental health issues there are in the country and how much mental health services are underfunded. Many of the incidents I have attended could have been avoided if they had more resources to prevent them."
"This industry is immensely competitive," he said. "It's taken me over 10 years to get to where I am today. There's a lot of rejection, but it's important to listen to feedback and push harder the next time around. The Derby College staff are always there to support you."