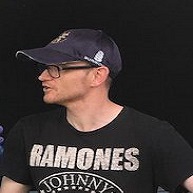 Simon Arnold studied Business and Finance at Derby College before becoming an Innovation Co-ordinator for Nottingham Trent University. He credits his time at Derby College for giving him the chance to get a university degree and give him the skills he needed to achieve his goals.
Here's what Simon had to say to our Alumni Team.
Starting on the right path
"I didn't really know what direction I wanted to go career-wise before I started at Derby College," said Simon. "College helped start me on the path to what I do now as an Innovation Co-ordinator. It made it possible for me to go to university, something I hadn't considered possible at school.
"My time spent studying at Derby College started me on a journey," said Simon. "I suppose college also gave me more practical skills and experience and probably more importantly raised my confidence."
The challenges and highlights of Simon's career so far
"Being made redundant from EM Media, where I was involved in film projects, was the greatest challenge of my career," said Simon. "It took me years to get back into a similar role and at many points I questioned whether I would get another chance. That was quite depressing at times," he admitted.
"Now I am a Project Co-ordinator and Manager in the public sector. I mainly work in the Higher Education sector but have worked in local government. These projects focus on business engagement with universities. My role is to engage with businesses and facilitate projects with academic colleagues.
"On the whole I enjoy my work," he said. "It's fun engaging with companies and you can get involved in lots of interesting events and projects.
"I haven't got many goals. In five years' time I'd like to be permanently employed at the university. I love my work and working at NTU. My project work is often on a fixed term contract, so I would like to get a permanent position at some point and perhaps more management experience, but my work fits in well with my personal family life so I am happy.
Final words of advice
"Never be afraid to ask for help and advice," said Simon. "I work with people who have way more specialist knowledge than I do, so use their knowledge Also try and be yourself and enjoy your work – it makes the days go quicker."