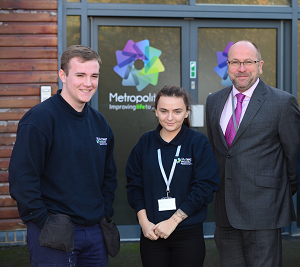 Derby College is also holding an information evening at the Roundhouse in Pride Park on Thursday March 15 between 5.30pm to 7.30pm to give young people and adults the opportunity register for a wide range of apprenticeships available now and in the coming months.
The College currently has around 50 apprenticeship opportunities available in a range of industries from Business Administration and Hospitality and Dental Nursing and Manufacturing.
Several local employers will also be attending the information evening to talk to visitors about their current and future apprenticeship opportunities ranging from Floristry and IT to Manufacturing and Healthcare.
Derby College Deputy Principal April Hayhurst explained: "With the profile of apprenticeships raised during National Apprenticeship Week the previous week, we are holding this information evening to give young people and adults alike more information about the opportunities available to them through this highly-regarded career route.
"As well as giving people a head start in their apprenticeship plans, the information evening is a chance to register for current and future opportunities and to talk to some of the major local employers who have vacancies now and in the coming months.
"Under the new structure, apprenticeships are far broader and available to more people whether they are school leavers, returning to the world of work or even current employees.
"They are essentially the opportunity to earn while you learn – combining valuable work experience with nationally recognised qualifications.
Amongst the local young people who are already progressing in their careers through apprenticeships.
Apprentice plumber Emily Parnill (19) from Ilkeston and apprentice joiner Sean Bell (17) from Castle Donington both work for maintenance supplier Metworks – the Derby-based company responsible for responsive repairs and planned works for Metropolitan which is one of the UK's leader providers of affordable housing and care and support services.
Emily completed her level two Plumbing qualification full time at Derby College and then applied for the apprenticeship at Metworks online.
"Work's really good. It's different every day. Some days it's doing dead easy jobs like changing taps and fixing toilets and other days you get all day jobs like fixing baths and stuff. I want to do my gas course and get my qualifications and maybe get my own business in the end."
Meanwhile Sean applied to Metworks straight from school and is working towards his Level 2 in Carpentry and Joinery – attending Derby College one day a week.
Sean said: "The college work is as good as the work itself – I'm enjoying both. I'm busy all day, doing bench joinery, compared to the site joinery I'm doing at work.
"I'd really recommend an apprenticeship, you're straight away learning on the job and at college."
Metworks managing director of Metworks Gary Collins concluded: "We work well with Derby College and both Emily and Sean are doing a great job."
For information about current apprenticeship vacancies with Derby College, please visit the vacancies page www.derby-college.ac.uk/apprenticeships-earn-learn and for more information about the apprenticeship information event on March 15, please visit www.derby-college.ac.uk/events