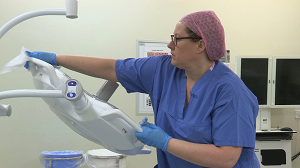 The 11th National Apprenticeship Week (NAW 2018) will run from 5 to 9 March 2018 with employers, apprentices and providers from across England celebrating the success of apprenticeships to encourage others to choose this proven pathway to a great career.
Whilst the focus is traditionally on young people aged 16 and above entering the workplace through an apprenticeship programme, an increasing number of employers are recognising the value of upskilling their existing staff through apprenticeship training.
This is an effective way of training staff who have been identified as having great potential and have taken on additional responsibilities or have moved to a new role within the past three years.
Derby College delivers apprenticeship in more than 40 industrial sectors and supports employers whatever their requirements – whether that is recruiting young people into a role or supporting individuals looking to upskill.
The apprenticeship team works with businesses of all sizes to analyse training needs, identify relevant apprenticeships and the best way of providing the training.
Derby College can advise on the funding currently available to employers looking to take on apprentices.
The team has the experience and expertise to ensure that investment in the apprenticeship programme is as cost-effective as possible.
Apprentices complete qualifications relevant to their role and the industry and receive regular visits from the Derby College assessor team to ensure they are developing at the right pace and performing at a level that meets the employer's expectations.
Derby College Deputy Principal April Hayhurst explained: "In recent surveys, a majority of employers reported that apprenticeships had helped them boost productivity and performance – leading to lower training and recruitment costs overall.
"The benefits of apprenticeships are becoming increasingly obvious to more and more businesses who view them as beneficial to their long-term development.
"Apprenticeships can deliver real returns to bottom line. Because they are designed specifically to meet employers' and individuals' needs, they ensure staff have the skills and qualifications that a business or organisation need now and in the future.
"By investing in apprenticeships – whether for new or existing staff, employers can harness new talent and creative ideas, improve job satisfaction and reduce staff turnover.
"Apprentices are widely regarded as eager, motivated, flexible and loyal to their organisation. The training that we provide also increases their confidence, reliability and enthusiasm."
Among the organisations working with Derby College to recruit new apprentices and upskill existing staff is Derby Teaching Hospitals NHS Foundation Trust.
Derby Teaching Hospitals NHS Foundation Trust are working in partnership with Derby College to increase the profile of careers in Health and Social Care, forming a Derby Teaching Academy in 2016.  As an Academy with Derby College, Derby Teaching Hospitals provide work experience placements, lectures and career talks to students.
The Trust currently employs a wide range of apprentices in clinical and non-clinical roles.  There are plans for further recruitment throughout 2018 and the expansion of the programme to offer apprenticeship training to existing members of staff who are keen to develop their careers within the Trust.
Derby Teaching Hospitals NHS Foundation Trust Apprenticeship and Vocational Development Manager Faye Leatt, explained that apprenticeships were an important part of the Trust's succession planning to develop the future workforce.
"Apprenticeships are increasingly being recognised in the health service as a vital way to recruit and advance staff in both clinical and non-clinical roles.
Although many people come into the health and social care sector with an academic background, vocational development has just as many opportunities for staff to progress into professional roles."
She continued: "As well as developing our existing workforce, we continue to recruit apprentices of all ages and from a wide range of backgrounds.
"These range from Derby College students who have come from the Employer Academy where they have already gained work experience and an insight into the job role, through to adults looking to retrain or return to work.
"Our mature Apprentices also bring fantastic skills to the organisation due to their previous experience and ambitions."
For more information about apprenticeship opportunities at Derby Teaching Hospitals NHS Foundation Trust, please visit http://superhospital.co.uk/recruitment/apprenticeships