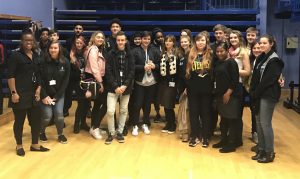 Derby-born screenwriter Lucinda Coxon recently met with Derby College Creative Media students at the Joseph Wright Centre to talk about her career as an award-winning writer for film, television, and stage.
Ms Coxon's feature screenplays include the Oscar winning The Danish Girl, starring Eddie Redmayne and Alicia Vikander, Wild Target, starring Bill Nighy, Emily Blunt, and Rupert Grint; and The Heart of Me, starring Helena Bonham Carter, Olivia Williams, and Paul Bettany.
She collaborated with Guillermo Del Toro on Crimson Peak and more recently adapted Sarah Waters' novel The Little Stranger for film, to be directed by Lenny Abrahamson.
Her four-part version of The Crimson Petal and the White, based on Michael Faber's novel, was screened to critical acclaim on BBC2, and starred Romola Garai and Chris O'Dowd. It received a BAFTA Award nomination for Best Miniseries.
Her extensive repertoire of award-winning stage plays have been performed around the world and she is currently writing a new play for the National Theatre.
The visit was organised by Into Film, a national organisation which puts film at the heart of the educational and personal development of children and young people across the UK and is supported by the BFI through Lottery funding.
Derby College Media Lecturer Vanessa Simpson explained: "Our students watched The Danish Girl as part of the Into Film club event which took place in November 2016".
"This re-life story about Danish artist Lili Elbe who, in 1931, became the first known recipient of male to female gender confirmation surgery was very poignant and we were delighted when the opportunity came about to meet Lucinda Coxon for a discussion about this film, her wider career.
"The students have found this a fascinating experience and I hope that it will inspire them to develop their script writing and production skills to aid their future career paths."
Head of the Joseph Wright Centre Stacey Adams concluded: "This was the latest part in our extensive programme of industry talks, visits and work placements to broaden the students horizons and enhance the A level and vocational study programmes."