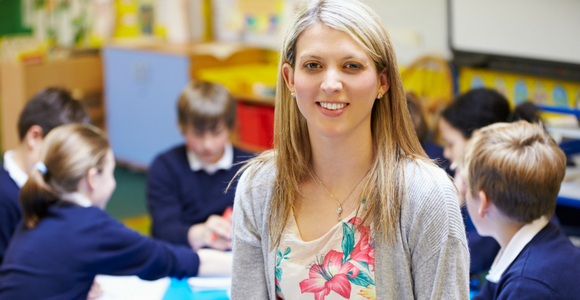 Teaching can be one of the most rewarding professions around, so there's no wonder it's such a popular career choice. Here's how Derby College can help you get there.
Why study teaching at college?
There are many different routes into teaching, but many students prefer to get their teaching qualification at their former college.
You can study in a familiar environment
We offer much lower tuition fees than universities
You can fit your studies around other commitments with part-time and flexible options
You can live at home
Smaller class sizes means more individual support
What types of courses do we offer?
School-Led Teacher Training
If you'd prefer to get your teaching qualification by getting lots of hands-on experience working in a school alongside other teachers, then vocational school-led training could be right for you. You'll get to work in at least two schools and at the end you will receive your QTS (Qualified Teacher Status). To apply, you need to have a degree-level qualification. This doesn't have to be from a university, you can apply with any recognised equivalent Higher Education qualification. You also need to have a grade C or above in English and Maths, and if you want to teach early years and primary pupils, a grade C or above in a GCSE Science subject.
If you don't yet have the qualifications needed to apply for school-led teacher training, you have several options:
An Access to Teaching course – this prepares you for degree-level study if you've been away from education for a while
Get the necessary GCSE requirements at Derby College here
Apply for university-led teacher training (this can still be done at college, but you will get a university-level qualification alongside your teacher training)
Explore our school-led teacher training courses here:
University-Led Teacher Training
Offered by both colleges and universities, university-led teacher training allows you to study for your teaching degree alongside a minimum of 24 weeks work experience in a school. You'll receive your QTS at the end and have the option to study at college for a three of four-year degree alongside. You can also apply for a university-led teacher training course if you already have a degree.
Explore our university-led teacher training courses here:
Further requirements to become a teacher include a professional skills test and strong understanding of the subject you want to teach. For more information on teaching entry requirements, click here.
Your funding options
If you've already got your degree and are applying for school-led training, you could be eligible for a bursary or scholarship, depending on the subject you want to teach. If you don't have a degree and you're applying for a college or university-led courses there are a lot of financial support options for you, including loans and grants offered for Higher Education study.