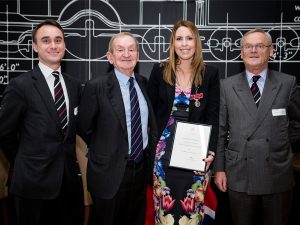 Design and Sustainability Manager at Bowmer and Kirkland, Rebecca Hartshorn, has been awarded a British Empire Medal in the Queen
Rebecca, who holds a BA (Hons) in Architecture, a Certificate in Architectural Practice and a Masters (MSC) in Construction Management, has been recognised for her services to skills and industry. She received her medal from Derbyshire William Tucker, on behalf of Her Majesty The Queen, at a local ceremony, held at Derby College on Wednesday 19th October 2016 and will also be invited to a garden party at Buckingham Palace next year.
Rebecca joined Bowmer and Kirkland in 2007 and is now an internal Q.A auditors, she has attained the qualification of BREEAM Retail 2008 Assessor, has completed New Construction Assessor Training and is a qualified BREEAM AP. Rebecca is also part of our Pre-development and tendering team.
When she received notification of her award from the Cabinet Office, Rebecca thought someone was playing a trick.
"I am so, so proud and really honoured to have been nominated by someone for this. Obviously I will never know who put my name forward, but I am very grateful. I am passionate about construction and have tried to give something back by helping young people and women get more involved in the industry that I love. It really is wonderful to be recognised like this at the highest level."
Rebecca was Chair of the first Professional Construction Employment Skills Academy Board at Derby College, with the College remaining proud partners of Bowmer & Kirkland. Rebecca continues to support and mentor Derby College learners throughout their Professional Construction study programmes.
Derby College's Deputy Principal, Employer and Economic Affairs April Hayhurst said: "Rebecca continues to play an extremely important role in our work to ensure that the training and education that we provide Professional Construction learners at the College remains of the highest quality and predicts future skills requirements. We are delighted that Rebecca's work and commitment has been recognised with this well-deserved honour and thank her for sharing her expertise with our staff and learners at the College through the Employment and Skills Board."
A British Empire Medal is awarded to members of the community in recognition of a sustained local contribution and service to the local community that has made a significant difference. There have only been 9 BEMs awarded in Derbyshire previously; this underlines the great contribution that Rebecca has made to her local community and to the Construction Industry.
Please click to find our more about the Employment and Skills Academy Boards at Derby College and the Professional Construction Courses that are supported by the ESA board formally chaired by Rebecca Hartshorn B.E.M.