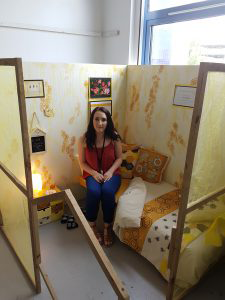 UAL Art Foundation Diploma students Danielle Smith and Lucija Hofstetere have won £400 and £200 respectively after being shortlisted for the annual Bryan Harris Bursary award – named after the Society's founder and former chairman who died two years ago.
Danielle (23) impressed the judges with her design of a bee bedroom complete with specially designed and printed wallpaper and textiles – illustrating the vital role of the hardworking bumblebee to maintain an environmental balance.
Lucija (22) meanwhile created three dress designs inspired by the history and current disrepair of the Hippodrome Theatre in Green Lane.
Members of Arts Society Derby judged entries from five students at the Joseph Wright Campus Art and Design Faculty.
Vikki Fitt, Young Arts representative at Arts Society Derby, said: "We have awarded a bursary every year for more than 20 years to a Derby College student to support them in their University studies.
"We were particularly impressed with the creative interpretation of two such relevant subjects.  Danielle's piece displayed so many different skills and Lucija's subject matter was extremely intriguing.
"We wish all the finalists the best of luck in their future studies."
Danielle originally came to College to study Art & Design and then decided to work in retail before returning last year on the foundation study programme – designed to prepare students for higher education.
She has now secured a place to study Textiles at Birmingham City University with her sights set on interior design.
She said: "I have always been fascinated by bees and particularly how we are potentially destroying this hard working species.
"The bedroom has been designed as a haven for bees, to rest after a busy day's work.  I wanted to humanise them – complete with six little shoes and a floral calendar on the wall to plan their work schedule!
"I am delighted to have won the bursary which I will use for materials when I start university in the Autumn."
Lucija, who is originally from Latvia, is going to De Montfort University in Leicester to study fashion design.
She was part of a project organised by Derby City Council under the Townscape Heritage Initiative in the city centre.
Students were invited to create artwork to showcase the historical importance of the area and the work underway, funded by the Heritage Lottery Fund, to restore some of the buildings to their former glory.
She said: "I was really struck by the sad demise of the Hippodrome Theatre so my three designs show the despair of the building now, its history through photographs and its last use as a bingo hall.
"Having researched into its past, I really hope that this building can be saved."
For more information about the Art Foundation Diploma and all the full and part time courses available at Derby College, telephone 0800 028 0289 or visit www.derby-college.ac.uk